PRINTER FRIENDLY PAGE. To view this artist's HOME page, click or visit:
https://www.delafont.com/music_acts/darryl-worley.htm
**
Booking Darryl Worley, country music artist - book Country Music Artists - Contemporary Country - © Richard De La Font Agency, Inc. - For serious booking requests only, click here: For More Information
If anybody is in touch with heartland America, it is Darryl Worley. Raised in rural Hardin County, Tennessee, the home turf of "Walking Tall" sheriff Buford Pusser, he comes from blue-collar stock and a long line of musicians. Grandparents, aunts, uncles and cousins were singers and pickers. Darryl started playing harmonica at age five and guitar at age nine. As kids, he and his brothers formed a harmony trio with Darryl as its lead singer. He began writing songs when he was in high school.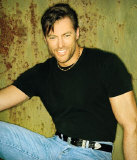 His interest in songwriting blossomed during his student years at Martin Methodist College and the University Of North Alabama. Darryl Worley funded his education by working at the local paper mill, in construction and as a commercial fisherman on the Tennessee River. He also formed his own country band and landed a regular job singing the songs of Merle Haggard, George Jones, Willie Nelson and Dwight Yoakam at the Back Porch Restaurant in Shiloh, Tennessee.
"I 'graduated' from that to the Moose Lodge and the local American Legion Hall," Worley quips. "You name it, I played 'em all down there. I could make a list of beer joints as long as my arm. As soon as I graduated from college, I really started hammering away on songwriting."
With degree in hand, he went to work as a research biologist in Tuscumbia, Alabama, later returning to his home county to teach school and, briefly, sell cars. He next worked in chemical sales for a company in Baton Rouge, Louisiana. Then he formed a partnership with some friends and launched his own chemical supply business. But all this time, music was tugging at his sleeve.
His song tapes led to a contract with FAME publishing in Muscle Shoals, Alabama, which found Darryl Worley chucking the life of a prospering businessman to roll the dice as a $150-a-week songwriter. At that point, his singing became a matter of survival. Fortunately, acts like Archer Park, The Hutchins and even George Jones recorded his early tunes. And in 1994, on the strength of "A Good Day To Run," among other songs, Darryl Worley 'graduated' again, this time to EMI Publishing in Nashville.

The company's executives introduced him to producer Frank Rogers, who was then working on Brad Paisley's debut disc. Worley and Rogers hit it off instantly and went into the studio together. The result pricked up ears at record labels up and down Music Row. DreamWorks Nashville principal executive James Stroud was so enthusiastic, he flew his private jet down to rural Tennessee to see Darryl in action at the Moose Lodge.

And "down home" is where Darryl Worley has remained. Although his career is based in Music City, he is still a resident of Hardin County. His wife, Beverly, is a hometown girl whom he married in 2001. They live in a cabin on some rural acreage.
Hit songs include --
Sounds Like Life To Me
Awful, Beautiful Life
Have You Forgotten?
I Miss My Friend
If Something Should Happen
A Good Day to Run
When You Need My Love
I Just Came Back From a War
Second Wind
Family Tree
Tennessee River Run
Sideways
Livin' In The Here And Now
I Love Her, She Hates Me
I Will Hold My Ground
Darryl Worley may be available for your next special event.
For booking information, click HERE!
---
To book Darryl Worley for your special event,
contact Richard De La Font Agency, Inc.
For faster service, this is required first - click on this link: https://www.delafont.com/contactselect.htm