PRINTER FRIENDLY PAGE. To view this artist's HOME page, click or visit:
https://www.delafont.com/music_acts/Dean-Simmons.htm
**
Booking Dean Simmons as Garth Brooks - Tribute Artists - Garth Brooks Tributes - Country-Pop, Contemporary Country, New Traditionalist - © Richard De La Font Agency, Inc. - For serious booking requests only, click here: For More Information
Let the intensity and tenderness of Dean Simmons electrify your senses and your stage!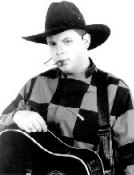 Dean Simmons is a third generation musical prodigy who began playing guitar at the age of seven. Growing up in Nashville, Tennessee, and Portland, Oregon, he worked his way from visual effects specialist to trading guitar licks with some of the hottest country bands in the Pacific Northwest. His rich vocals and instrumental country sounds were so superior that he soon formed his own band, where he spent five years touring throughout the U.S., the Caribbean, the South Pacific, and the Far East.
Now a seasoned entertainer, he has taken his talent another step further with an incredible recreation of Garth Brooks. Dean Simmons' outstanding vocal resemblance, appearance and overall stage presence is all Garth!
In 1994 Dean landed a major spot with "Stars of Country" in Pigeon Forge, Tennessee. In 1995 he moved west to Las Vegas where he was featured in "Hot Country Nights" in the Westward Ho showroom. In 1996 his extraordinary ability landed him a regular spot with "Legends in Concert," the number one musical tribute show in the country.
He has been featured in numerous magazines, newspapers, radio and television programming, including The 1996 Miss Universe Pageant, TNN's "Country Showcase" and VH-1's "Route '96."
Dean continues to perform in Las Vegas and other major showrooms nationwide, leaving every audience he meets astounded, as he pays tribute to one of the world's most popular performers.
---
Partial Song List of ...
Dean Simmons
A Friend To Me
A.H.B.A.
Ain't Goin' Down
Baton Rouge
Belleau Wood
Friends in Low Places
If Tomorrow Never Comes
In Another's Eyes
Learning To Live Again
Long Neck Bottle
Midnight Cinderella
Much Too Young
Papa Loved Mama
Rodeo
She's Every Woman
She's Gonna Make It
Standing Outside the Fire
That Ol' Wind
The Dance
The River
The Old Stuff
The Night I Called The Ol' Man Out
Thunder Rolls
Two of A Kind
Two Pina Coladas
Unanswered Prayers
We Shall Be Free
What She's Doin' Now
You May Be Right
Dean Simmons as "Garth Brooks" may be available for your next special event.
For booking information, click HERE!
To book Dean Simmons for your special event,
contact Richard De La Font Agency, Inc.
For faster service, do this first - click on this link: https://www.delafont.com/contactselect.htm