PRINTER FRIENDLY PAGE. To view this group's HOME page, click or visit: https://www.delafont.com/music_acts/Del-McCoury.htm **
Booking the Del McCoury Band - Bluegrass Music Artists - Traditional Bluegrass, Contemporary Bluegrass - © Richard De La Font Agency, Inc. - For serious booking requests only, click here: For More Information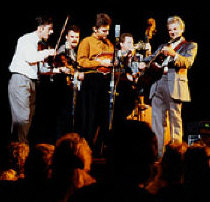 When talking traditional bluegrass, it is hard to find an article, review or feature that doesn't use the Del McCoury Band synonymously with "high lonesome." It could be said that Del is the definition of "high lonesome."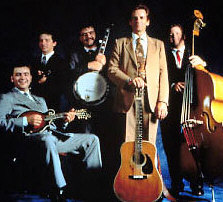 For more than 30 years, Del McCoury has been actively playing Bluegrass Music. Since his apprenticeship with Bill Monroe and the Bluegrass Boys in the '50s, he has played with some of the best bands in Bluegrass.
Del has been recording and performing for four decades. Early in his career he was a member of the Bluegrass Boys, playing guitar and singing with Bill Monroe. In the early 60's he formed his own band, The Dixie Pals, and went on to establish himself as one of the most distinctive and recognizable performers in bluegrass.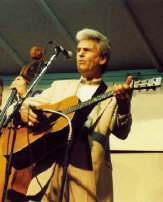 Stringent rhythm guitar and piercing lead vocals have made Del a cornerstone of traditional bluegrass music. The International Bluegrass Music Association (IBMA) accorded Del the Male Vocalist of the Year three years in a row. Currently Del is touring as The Del McCoury Band with sons Ronnie and Robbie on mandolin and banjo, Jason Carter on fiddle, and Mike Bub on bass.
In a interview Del was asked about his preference for the blues. "The blues have a lot in them for a singer. There's more melody that you can get out of a slow, bluesy tune. You can turn it and twist it and this and that. I like to see what I can get out of it." Whether it is bluesy, hard-driving, or high lonesome, what he get out if it is making some of the hottest bluegrass heard today.
In 1981 Ronnie joined The Del McCoury Band as a vocalist and mandolin player. The tight vocal harmonies of Del and Ronnie will spur chills on any given night. Instrumentally, Ronnie is one of the premier mandolin players in bluegrass and a sought after studio musician. Ronnie is IBMA's Mandolin Player of the Year for 1993 and 1994. Winning this award two years straight makes Ronnie and Sam Bush the only winners since the award's inception.
In 1987 Robbie joined the band, first as the bassist, then two years later switching to banjo. Robbie has been called "one of the most exciting and masterful new interpreters of Scruggs-style banjo picking." Robbie has been a finalist in the Banjo Player of the Year category for three years running.
Mike Bub, bass and harmony vocals, and Jason Carter, fiddle, round out the Del McCoury Band. Mike has performed and recorded with many well respected bands. Being an accomplished banjo player as well, he brings an innate sense of rhythm to the band. Jason is the newest and youngest member, joining the band in 1992. Playing in the bluesy style of many of the bluegrass pioneers, Jason's fiddle playing is right at home.
Though anchored by Del's strong vocals, the group as a whole has been recognized by the IBMA as finalist in every category possible, excluding only the Female Vocalist of the Year Award. In addition to Ronnie's award for Mandolin Player of the Year, the band walked away with awards for Album of the Year ("A Deeper Shade of Blue") and Entertainer of the Year for 1994.
Recently the McCourys have made several appearances on "The Nashville Network" as guests on "Music City Tonight," "The American Music Shop," "Crook & Chase," "Country Music News" and the "Americana Network" on "Ronnie Reno's Old Time Music Festival," as well as The Grand Ole Opry. Touring extensively, the band performs year-round throughout the United States and abroad.
Awards include --
International Bluegrass Music Association Entertainer of the Year 1998
International Bluegrass Music Association Entertainer of the Year 1997
International Bluegrass Music Association Instrumental Group of the Year 1997
International Bluegrass Music Association Entertainer of the Year 1996
International Bluegrass Music Association Instrumental Group of the Year 1996
International Bluegrass Music Association Entertainer of the Year 1994
Notable songs include -- .
Rain and Snow
Cold Hard Facts
Look of a Perfect Diamond
Carrie Brown
Get Down on Your Knees and Pray
High on a Mountain
Roll in My Sweet Baby's Arms
Cheek to Cheek With the Blues
Bluest Man in Town
Black Mountain Rag
The Del McCoury Band may be available for your next special event.
For booking information, click HERE!
---
What Others Say About ...
The Del McCoury Band
Chicago Tribune:
"For every generation, there seems to be one ensemble that represents the pinnacle in bluegrass music, and today that group is the Del McCoury Band."
Washington Post:
"Unstoppable momentum and terrific voices that blend the best qualities of hillbilly, honky-tonk and blues singing."
Bluegrass Unlimited:
"If Bill Monroe is the father of bluegrass, then surely Del McCoury is figuratively his number one son."
Sing Out:
"Next to Bill Monroe and Ralph Stanley, no one has kept the blue in bluegrass like Del McCoury."
---
To book The Del McCoury Band for your special event,
contact Richard De La Font Agency, Inc.
For faster service, do this first - click on this link: https://www.delafont.com/contactselect.htm
For serious booking requests only.
Thank you for this consideration.