PRINTER FRIENDLY PAGE. To view this group's HOME page, click or visit: https://www.delafont.com/music_acts/donald-lawrence.htm **
Booking Donald Lawrence and Company - Gospel Music Artists - Contemporary Gospel, Gospel Choir - © Richard De La Font Agency, Inc. - For serious booking requests only, click here: For More Information

Donald Lawrence is a man with destiny on his mind. In a world already reeling from the mayhem of everyday life, Donald Lawrence & Company, was first conceived as a "spiritual vitamin" to reenergize a church teetering on the precipice of spiritual despair and desolation. As the catastrophes of September 11, 2001 unfolded, that need was heightened immeasurably.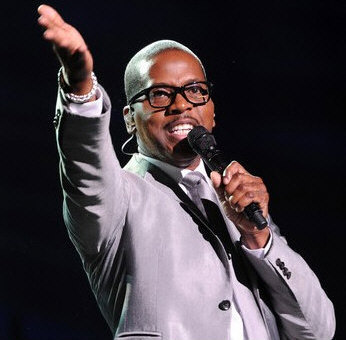 "I've always done my best work when I follow what my heart is saying to me, and write and record what I'm feeling," Donald comments.

The pulsating, rock-steady, dance-floor-ready sound is classic Donald Lawrence & Company, with Donald in his signature, fluid modern gospel/R&B voice, atop the singers' smooth-as-silk, contemporary-but-timeless take on vintage choral gospel.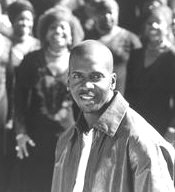 "I want everybody to know that even when things are looking up, and starting to change for the better, it's not all that God has in store for you. In fact, compared to the wondrous things He still has to lay on the table before us, we haven't seen anything yet."

Donald Lawrence – songwriter, producer, singer and director-extraordinaire – whom Billboard magazine has hailed as a "timeless…tunesmith, lyricist and master of the mix," was a child born with a love for music, who grew up to earn a Bachelor of Fine Arts degree from the prestigious Cincinnati Conservatory. Anticipating a career in musical theater, his plans were abruptly changed a year after his graduation when pop/R&B superstar Stephanie Mills – the friend of a friend of Donald's – met the rising young prodigy and quickly hired him to be her musical director.
By the mid-'90s Donald Lawrence had spent almost 10 years working and touring with the multi-platinum-seller Mills, and had produced two of her albums, in 1992 and 1994. Along the way he had also established himself as one of gospel music's most esteemed producers, with a sterling resume comprising work with gospel/R&B/pop superstar Kirk Franklin, hit-maker Peabo Bryson, and the late gospel giants, Daryl Coley and Thomas Whitfield. Other entries on Donald's dazzlingly diverse list of credits include writing and directing several highly successful gospel musicals and plays, and serving as vocal coach for '90s chart royalty, En Vogue.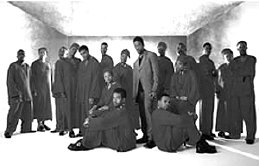 With hopes for a future that includes movies, musical theater and TV as well, Donald Lawrence speaks like a man still moving into his own ever-evolving destiny.
"Life is a gift, and God didn't bless us with this gift to live our entire lives in sadness," he concludes. "Sadness will pass, and then it's time to get up, dry your eyes, re-boot and grab back your life. And when you do, by all means, live it ... to the fullest."
Hit songs include --
Testify
The Blessing of Abraham
Encourage Yourself
I Speak Life
You Covered Me
Giants
Other notable songs include --
I Am God
Mender
Stranger
Dance in the Spirit
Message for the Saints
Holy
Shut de Do
Don't Give It Up
Keep On Blessing Me
If I Can't Say A Word
Donald Lawrence and Company may be available for your next special event!
For booking information,
click HERE!