PRINTER FRIENDLY PAGE. To view this artist's HOME page, click or visit:
https://www.delafont.com/music_acts/dwight-yoakam.htm
**
Booking Dwight Yoakam - Country Music Artists - Alt-Country, New Traditionalist, Bakersfield Sound, Country-Rock - © Richard De La Font Agency, Inc. - For serious booking requests only, click here: For More Information
On rare occasions, a sense of the past is mated with a fierce, intransigent vision of the future, and something new is born. Something new like the music of Dwight Yoakam.
In all his recorded work and stage performances, Dwight Yoakam's music has been marked by an abiding affection for the purity of traditional country's precedent, but never has it been straitjacketed by a mindless fidelity that creates a vacuum in which a song withers and dies. Dwight's understanding of country's past is one of the great virtues of his music; his will to go the past one better – to up the ante emotionally, to jump the energy level up several notches – is an equally important virtue in the Yoakam canon. And his vision as a songwriter continues to set him apart.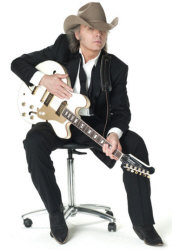 Initially, the Kentucky native burst onto the scene in the early '80s by driving an alternate route of his own invention. Hailed as a "Renaissance Man" by Time magazine, Dwight creates music that, according to the Los Angeles Times, is "rooted in the rawest of country traditions (Buck Owens, Merle Haggard, et al), but it's aggressively contemporary without pandering to fleeting pop trends." Vanity Fair has also noted: Yoakam strides the divide between rock's lust and country's lament."
Dwight realized in the early days of his career that he might need to find an alternate highway for his music. So he brought his music to an unlikely audience – he roots rock fans of Los Angeles, who were becoming conversant with a new breed of traditionalist through the work of such local bands as Los Lobos, the Blasters and Lone Justice, all of whom shared stages with Dwight. It was strange chemistry, certainly, but Dwight stuck by his guns and achieved a new audience for his heady combination of gutsy country emotion and rock 'n' roll electricity.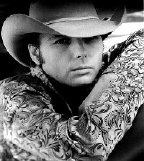 That combination was also on view in his six-song 1984 debut EP "Guitars, Cadillacs, Etc." – a record that attracted the attention of devotees of rock's most progressive sounds. "Guitars, Cadillacs," issued independently by a small Hollywood label, was re-released in 1986, augmented by four new songs, on Reprise Records. That album, and the six studio sets that followed it, encapsulate Dwight's uncompromising approach to modern country. They are: "Hillbilly Deluxe" (1987), "Buenos Noches From A Lonely Room" (1988), "Just Lookin' For A Hit" (1989), "If There Was A Way" (1990) – all of which have sold more than 1 million units – plus "This Time" (1993), Dwight's double-platinum bestseller, "Gone" (1995).
Writing about the milestone "This Time" in a four-star Rolling Stone lead review, Don McLeese noted that the album "suggests that he has no contemporary peer, that his emotional precision and command of nuance have attained a kind of perfection."
Listeners within the music industry concurred: "Ain't That Lonely Yet," the #1 top-selling single drawn from that album, won a 1993 Grammy for Best Country Vocal Performance, Male, while the album's "Pocket Of A Clown" received a Grammy nomination in the same category a year later. Dwight summed up his career to date with 1995's "Dwight Live," a smoking document of the last dates on his 1994 "This Time Tour" recorded at San Francisco's Warfield Theater. Like all its precursors, this energetic concert recording captured his dramatic melding of country roots and contemporary fervor.
Awards include --
GRAMMY - Best Country Collaboration With Vocals 1998
GRAMMY - Best Male Country Vocal Performance 1993
Music City News Country - Vocal Collaboration of the Year 1989
Academy of Country Music - Top New Male Vocalist 1986
Hit songs include --
I Sang Dixie
Streets of Bakersfield
Ain't That Lonely Yet
Fast As You
A Thousand Miles From Nowhere
Honky Tonk Man
Guitars, Cadillacs
I Got You
You're the One
Please, Please Baby
It Only Hurts When I Cry
Little Sister
Little Ways
Always Late (With Your Kisses)
Turn It On, Turn It Up, Turn Me Loose
Crazy Little Thing Called Love
Try Not to Look So Pretty
Nothing's Changed Here
Dwight Yoakam may be available for your next special event.
For booking information, click HERE!
---
To book Dwight Yoakam for your special event,
contact Richard De La Font Agency, Inc.
For faster service, this is required first - click on this link: https://www.delafont.com/contactselect.htm