PRINTER FRIENDLY PAGE. To view this group's HOME page, visit: https://www.delafont.com/music_acts/Fabulous-Hubcaps.htm **

Booking The Fabulous Hubcaps - '50's-'70's Nostalgia Group, Rock and Roll - © Richard De La Font Agency, Inc. - For serious booking requests only, click here: For More Information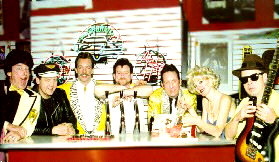 The Fabulous Hubcaps are one of the best musical attractions in the country. This fantastic rock-n-roll group specializes in nostalgic music, and is composed of eight lead vocalists, who are proficient on a number of instruments. Their instrumentation, blended with their rich vocals and harmonies, produces tremendous sound qualities and reinforces their reputation for capturing a true likeness of the artist and the original recording.
The Fabulous Hubcaps provide wholesome, family entertainment through an oldies-style performance that includes numerous costume changes. Depending on the song, they use three saxophones, or two guitars, or multi-keyboards and/or all the percussion instruments.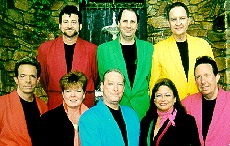 Name recognition and their spotless reputation for quality entertainment annually require the Hubcaps to headline major fund raisers and V.I.P. private affairs with newly acquired demands for private fiftieth birthday parties. They travel throughout the United States and perform more than 200 shows per year.
Their résumé list of special events includes The Kentucky Derby, performing the National Anthem at Camden Yards for the Baltimore Orioles, and the thrill of entertaining the President of the United States and Mrs. Clinton on the South lawn of the White House. Corporate and association clients include the DuPont Company, Pepsi-Cola, Sun Oil, Ericsson, Holiday Inns, The NFL, March of Dimes, American Medical Association, Regional Airline Association, and Amway Corporation.
Hubcap tributes and medleys always make a big hit with their audiences. Tributes include: Little Richard, The Everly Brothers, Elvis, The Coasters, The Mamas & The Papas, Connie Francis, The Platters, Buddy Holly, The Beach Boys, Sonny and Cher, Tina Turner and the Shirelles, plus the sound of James Brown, Otis Redding and the hits from Motown.
They have shared the stage with many top acts including The Association, Dan Akroyd, Pat Boone, Mickey Gilley, Blood Sweat and Tears, Donnie and Marie Osmond, Righteous Brothers, Bo Diddley, The Coasters, The Drifters, The Tokens, Jay and the Americans, Lesley Gore, Lou Christie, Freddie "Boom Boom" Cannon, The Vogues, The Marcels, Three Dog Night, Percy Sledge, Gary Puckett, Gene Chandler and Gladys Knight – just to name a few.
The Fabulous Hubcaps may be available for your next special event.
For booking information, click HERE!
---
To book The Fabulous Hubcaps for your special event,
contact Richard De La Font Agency, Inc.
For faster service, do this first - click on this link: https://www.delafont.com/contactselect.htm