PRINTER FRIENDLY PAGE. To view this artist's HOME page, click or visit: https://www.delafont.com/music_acts/fantasia.htm **

Booking Fantasia Barrino, R&B artist - book R&B Artists - Teen Pop, Adult Contemporary, Contemporary R&B, Pop Idol - © Richard De La Font Agency, Inc. - For serious inquiries only, click here: For More Information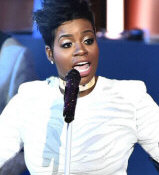 Fantasia Barrino went from unknown teenager to worldwide superstar after winning the third season of Fox TV's American Idol. Sixty-five million people voted for her, leading to her record deal with Clive Davis' J Records. Fantasia fell in love with music through the recordings of Monica, Brandy, Aretha Franklin, Pink, and Aerosmith.
Fantasia Barrino, with a dynamic gospel-tinged voice, made history when she became the first artist in history to debut at #1 with her first single, "I Believe" - written by Idol alum Tamyra Gray.
J-Records released her full-length debut, "Free Yourself," in November of 2004.
Hits include: "Bittersweet", "I'm Doin' Me",
"I Believe", "Collard Greens & Cornbread", "Truth Is",
"Free Yourself", "It's All Good", "Baby Mama",
"Hood Boy", "Only One U", "Ain't Gon' Beg You",
"When I See U", "Without Me", "Lose To Win".
Fantasia may be available for your next special event.
For booking information, click HERE!
---
To book Fantasia for your special event,
contact Richard De La Font Agency, Inc.
For faster service, this is required first - click on this link: https://www.delafont.com/contactselect.htm
For serious booking requests only.
Thank you for your cooperation.