PRINTER FRIENDLY PAGE. To view this artist's HOME page, click or visit: https://www.delafont.com/music_acts/freddie-jackson.htm **

Booking Freddie Jackson - R&B Artists - Urban, Singer/Songwriter - © Richard De La Font Agency, Inc. - For serious booking requests only, click here: For More Information

A singer-songwriter, who was especially successful in the late 80s, Freddie Jackson was brought up in Harlem, and sang at the White Rock Baptist church while he was still a young child. Later, he worked in a bank before joining the group LJE, along with the singer, songwriter and producer Paul Laurence.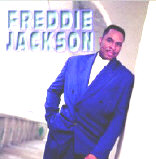 In the early 80s, Jackson moved to California and became lead singer with the R&B vocal/instrumental group Mystic Merlin. He sang on their Full Moon, which featured the popular soul/dance track "Mr. Magician." In 1984, he returned to the east coast where he was spotted singing in a New York club by Melba Moore. After serving as a backing vocalist for Moore, Evelyn "Champagne" King and others, Jackson signed a solo contract with Capitol Records, and issued "Rock Me Tonight" in 1985. Both the album, and its title track, "Rock Me Tonight (For Old Times Sake)," which Jackson had written with Paul Laurence, made the US Top 20, and also did well in the UK.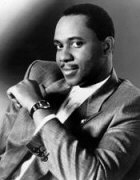 Subsequent singles from "Rock Me Tonight," such as "You Are My Lady" and "He'll Never Love You (Like I Do)," proved to be ideally suited for the burgeoning soul club scene on both sides of the Atlantic. In 1986, Jackson duetted with Melba Moore on "A Little Bit More" from her album "A Lot Of Love," and issued his own "Just Like The First Time," which included three more successful dance sides, "Have You Ever Loved Somebody," "Tasty Love" and "Jam Tonight."

Jackson's subsequent albums did not fare so well. Nevertheless, "Don't Let Love Slip Away" contained two UK hits, "Nice 'N' Slow" and "Crazy (For Me)," and "Time For Love" was given extra interest by the inclusion of guest artists such as Audrey Wheeler, Will Downing and Naje. "Here It Is" was the sole product of an abortive stay on RCA Records.
Freddie Jackson's songwriting activities, mostly in collaboration with Paul Laurence, resulted in numbers such as "Trust Me" for Lilo Thomas, "Keepin' My Lover Satisfied" for Melba Moore, and "Jam Song" for Howard Johnson. After an extended lay-off, Jackson returned to the studio to record 1999's "Life after 30."
Hit songs include --
Do Me Again
Have You Ever Loved Somebody
Hey Lover
Jam Tonight
Love Me Down
Nice 'N' Slow
Rock Me Tonight
Tasty Love
You Are My Lady
I Could Use A Little Love (Right Now)
I Don't Want To Lose Your Love
Main Course
All Over You
You And I Got A Thang
He'll Never Love You (Like I Do)
Love Is Just A Touch Away
Crazy (For Me)
Make Love Easy
Rub Up Against You
Me And Mrs. Jones
Freddie Jackson may be available for your next special event.
For booking information, click HERE!
---
To book Freddie Jackson for your special event,
contact Richard De La Font Agency, Inc.
For faster service, this is required first - click on this link: https://www.delafont.com/contactselect.htm
For serious booking requests only.
Thank you for this consideration.