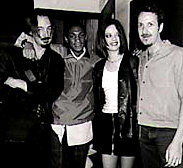 Garbage was a similar project begun in 1993, yet only when Manson was imported the following year did it develop beyond its seminal idea: songs of sonic extravagance that wouldn't seem possible for a four-piece to play, but if all you had was an acoustic guitar, they'd sound like pop songs with memorable melodies and dark lyrics that maybe you shouldn't sing too loudly.
They first saw Manson in the "Suffocate Me" video from her band Angelfish on MTV's "120 Minutes" and tracked her down. "I didn't know who they were," she says. "I told my record company, 'This guy Butch Vig called' and they just about dropped the phone." But I wasn't interested in sessions. I work with people I love, where there's a chemistry and a common outlook. Music is an extension of yourself and I can't just fit in with anybody."
So when Angelfish was on tour in the U.S., Manson flew in for some introductory recording. "She was nervous and we were nervous," says Marker, "and it was a disaster." But, continues Vig, "she had the balls to come back. The last thing we wanted was somebody we could manipulate. To some of the lyrics she'd go, 'I can't sing this bloody crap!'"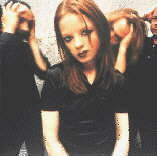 "She challenged our thinking," continues Marker. "If it was up to us, we'd write about drinking beer and driving around in Camaros." Adds Duke, "When Shirley arrived, Garbage became a band rather than just an idea." "What did I add? A bad temper?" Manson says with a laugh. "There were just certain things I wouldn't sing about, and on other songs I wanted to change the perspective. Being the only woman in the band, it was necessary to do this to stay true to myself. Then again, I've been accused by male friends of thinking like a man." She smiles, "Maybe it comes from being small-chested."
When Manson would suggest an idea, she'd be roundly denounced – until after she tried it and everyone realized the song should feature it as the main hook. "Shirley gave more edge to some songs than we thought they had," says Vig, "or she sang them so understated that she made them more subversive and intense."
Those early lyrics were penned during group agony sessions at a fishing cabin in the north woods of Wisconsin. Back at the studio, Manson would sing them over and over until the band invariably decided she'd done it best the first time. Further effort was spent getting the guitar and keyboard sounds perfect by utilizing the latest in expensive digital gear – and then it was all scrapped in favor of outdated analog equipment, a 1965 Epiphone guitar and a monophonic synthesizer of unknown age, prone to emitting random squeals at inopportune moments.
In fact, an unplanned sample of a digital tape deck in its death throes inspired the melody of one song and another opens with the sound of Vig accidentally wiring the mixing desk into the air conditioning system. "But," says Erikson, "whatever weird sounds there are have to serve the song. Whatever takes away from it is cut. The song is what's important." Vig concurs, "Nothing's sacred. The day after pouring your guts into recording, you have to be able to say 'erase it.' In the end, they're just magnetic impulses."
Manson, sharp-tongued but sedate Erikson, quiet and studious Marker, and unassuming Vig seem unlikely authors of Garbage's tales of extreme emotions such as obsession, vengeance, hate and infatuation. Says Manson, "I find the most normal people full of excess and rebellion. Weirdness lurks in the most unlikely corners. Our common ground was a certain melancholy and an interest in the perverse. It's easy to be morose and hard to be happy. But by the end of recording, I felt we might do something totally la-dee-da. We never did. Maybe the next album will be more jolly."
Her melancholy, she suggests, comes from growing up "desperately unhappy, despite a perfect upbringing. I was convinced I was the ugliest creature that ever lived, that everybody hated me and the only way to deal with it was to be as unpleasant as possible."
Her father was a professor of animal genetics and poultry breeding, her mother a former big band singer. She joined her first rock band at 16 and the next year connected with Goodbye Mr. MacKenzie as backing vocalist and keyboard player. A handful of albums and tours of the continent later, she led Angelfish, whose self-titled debut album appeared in 1994.
The others have quite a different background. Vig was raised in the small dairy farm community of Viroqua, Wisconsin, his mother a music teacher, his dad the town doctor. Though he studied piano until the sixth grade and then the drums, when he enrolled at the University of Wisconsin in Madison, he was presumably headed to medical school. But two years later he dropped out and joined the band Spooner as its drummer.
Erikson was that band's guitarist and singer. He too had grown up in a tiny rural locale, but in Nebraska. There he learned piano and bought records at the local appliance store, and studied art in college. He moved to Madison because of its cool art scene, and ended up driving trucks and working as a carpenter while playing in bands at night.
Meanwhile, Marker was a film student at UW. Raised in a dozen different places but spending most of high school in Mamaroneck, north of New York City, he'd played his uncle's drum kit since he was six and picked up the guitar at 12. He met Spooner while hanging out at clubs and, boasting a four-track reel-to-reel he'd bought after working summers mowing lawns, started recording their songs.
By this time, Vig had returned to college, but like Marker, as a film student shooting 16 mm films he calls "abstract, arty, very unwatchable." It was his interest in their soundtracks that led to dabbling with synthesizers in the electronic music studio and catching the production bug. With Marker, he took out a loan to buy an eight-track and rent warehouse space, sticking egg cartons on the walls for better acoustics. For local punk bands, he says "we engineered, produced, tuned drums, made the coffee, and propped up the guitarist if he passed out. Forced to work with severe limitations and not knowing the correct way, we had to figure it out as we went along."
After Spooner's three albums of garage rock, the band mutated into Firetown. Recording its first of two albums on Smart's meager eight-track, the studio's reputation accelerated, breaking through on the indie scene with Killdozer and other bands for labels such as Sub Pop, Touch and Go, Slash and Twin Tone. But it is Nirvana's Nevermind, whose demos were done at Smart, for which Vig's most remembered. He never expected it to become a milestone and prefers not to dwell on its enormous success. "It affected so many people and changed the music business, but I don't want to get caught up in that. To try to put a perspective on it is scary."
Today, Vig and Garbage remain geographically distant from the music industry mainstream. "We love Madison," he says. "It's good to have a place to go where there's no bullshit. People here will call you on it if you act pretentious."
One such musician, upon heaving the innumerable loops and samples during playback, inadvertently inspired the band's name when he said, "This sounds like garbage!" Replied Vig, "Exactly, and we're going to turn this garbage into a song."
From out of chaos, there is music.