PRINTER FRIENDLY PAGE. To view this artist's HOME page, click or visit: https://www.delafont.com/music_acts/gary-puckett.htm **

Booking Gary Puckett - Rock Music Artists - Sunshine Pop, Classic Rock - © Richard De La Font Agency, Inc. - For serious booking requests only, click here: For More Information

Gary Puckett formed his band in San Diego in 1967 and called it The Union Gap, after the town of Union Gap, Washington. The band was signed by Columbia, and at the end of 1967, started making hit records. They scored six Top 20 hits and consecutive Gold Records between 1967 and 1969 with their big, dynamic productions, led by the passionate vocals of Gary Puckett.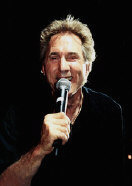 Combined CD, tape, and record sales now exceed 20,000,000 units, with his "Greatest Hits" and "Looking Glass" albums as two of Sony's best selling "Collector Series" albums to date.
The Union Gap disbanded in 1971. Gary Puckett has gone on as a solo artist and has enjoyed continued success playing festivals, theaters, and arenas throughout the world. He was part of the highly successful 1984 version of the Happy Together Tour, which also featured The Turtles, The Mamas & The Papas, and Spanky & Our Gang.
His casual, mild-mannered demeanor on and off the stage, gives no indication of the powerful singing voice he possesses that has not diminished over the years, and if anything, has gotten stronger.
Gary Puckett has performed on more than thirty network television shows and prime time specials during his career, even adding a command performance for the President and Prince Charles at the White House. In 1974, "Young Girl" was reissued in England where it received a silver record award for attaining a top five position on the pop charts, several years after its initial release.
Hit songs include --
Woman, Woman
Lady Willpower
Young Girl
This Girl Is A Woman Now
Over You
Keep The Customer Satisfied
Let's Give Adam and Eve Another Chance
Don't Give In To Him
I Just Don't Know What To Do With Myself
Gary Puckett may be available for your next special event.
For booking information, click HERE!
---
To book Gary Puckett for your special event,
contact Richard De La Font Agency, Inc.
For faster service, do this first - click on this link: https://www.delafont.com/contactselect.htm