PRINTER FRIENDLY PAGE. To view this group's HOME page, click or visit: https://www.delafont.com/music_acts/genesis.htm **

Booking Genesis - book Rock Music Artists - Prog-Rock, Art Rock, Pop/Rock, Adult Contemporary, Soft Rock, Album Rock - © Richard De La Font Agency, Inc. - For serious booking requests only, click here: For More Information

Tony Banks met Peter Gabriel; Mike Rutherford met Antony Phillips. Out of these teenage friendships and songwriting partnerships a band called Genesis emerged. In 1967, at the height of the psychedelic boom, they made their first recordings with the man who thought up their name, producer and pop star in waiting Jonathan King. In pursuit of success, Genesis took the scenic route. It was 10 years before they scored their first hit single. But by the early 70's, Genesis were making headway with their uniquely theatrical brand of "progressive" rock.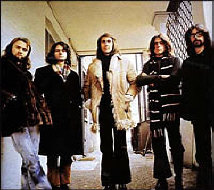 A series of personnel changes introduced a new drummer, Phil Collins, and guitarist Steve Hackett. Epics, like "Supper's Ready," a 23-minute controlled freak-out from the 1972's "Foxtrot" album, were their original stock in trade. In those early days, band members subsisted on a retainer of 10 pounds a week. Hotels proving sadly unaffordable, the group would drive home to London after every gig. Their live show looked great - including Gabriel's masks and costumes - but it cost next to nothing. "The challenge was to create something visually striking that was also cheap," Banks remembers. "Which was good discipline." Gradually, the world started to prick up its ears.

Fact: in America, Genesis has never appeared as an opening act. Rutherford: "We've always gone down well in the big industrial cities of the East Coast and Midwest, maybe because of the element of fantasy and escapism in our shows." Following the extraordinary success - on record and via a spectacular stage show - of the band's seventh album, "The Lamb Lies Down on Broadway," Peter Gabriel left in 1975. "We came close to calling it a day when Pete left," Rutherford recalls. "It wasn't that we lost our nerve. We were always confident we could write the music, because Tony and I had done most of the Lamb. It was just a question of whether the public would accept us."

They did. Phil Collins took over the vocals "because he really wanted to do it, basically" and the next installment of Genesis, "A Trick of the Tail," promptly outsold all of their previous releases. After the departure of Hackett in 1977, the creative nucleus of the band reconfigured as a trio, aptly expressed in the title of the next studio album, "...And Then There Were Three..." (the band's first U.S. gold record). Rutherford played both guitar and bass, and the majority of the material was written by Banks and Rutherford. It wasn't until Genesis's next album, 1980's "Duke," that drummer/vocalist Collins made his full-fledged songwriting debut. As the 80's began, punk notwithstanding, Genesis were a major force to be reckoned with. "I think the fact that we were all in our 30's by the time we became really successful was a great help," says Banks. "To this day we've never had an argument about money."

With their global sales increasing, the band also continued to set new standards as a live act. On their 1981-82 world tour, they broke box office records in North America when they went out with a revolutionary lighting system, Vari-Lite. Ten years later, they were the first stadium act to employ high definition giant video screens - Sony Jumbotrons. The 1980s proved to be Genesis's most commercially successful decade yet. Their 1986 album, "Invisible Touch," broke more records when it yielded five U.S. top ten singles.
"Despite the media's perception of us, we didn't think of ourselves as a singles band," says Rutherford. " In our minds we were a band that did long songs but just happened to have a few hits." The accompanying Invisible Touch tour generated the highest average gross per venue of any act on the road that year. A total of three million people worldwide attended.
In 1987, Genesis were voted Band Of The Year in Rolling Stone magazine's Readers Poll. Following a lay off during which band members pursued individual projects, Genesis re-convened in 1991 to record "We Can't Dance." "We were quite surprised Phil still wanted to make a Genesis album," Banks recalls. "We felt incredibly loyal to one another, but the pressures of his solo success made it increasingly difficult for all of us to function as a band." Difficult, but by no means impossible. "We Can't Dance" sold more than ten million copies worldwide, becoming Genesis's biggest seller so far. A triumphant romp around the world saw the band play to their largest-ever British audience, when they sold out two concerts at Knebworth in the Summer of 1992.

After another break for soloing, Genesis and Phil Collins finally parted company in 1996. "It did briefly occur to us that we should put Genesis to rest," Rutherford admits, "But Tony and I have never stopped writing songs since we were teenagers, so we thought, why should we give up now? A group is a compromise. Phil was good at concise moments, just as we've always been happier working with larger, longer structures. Now the balance has shifted again."
Hit songs include --
Hold On My Heart
In Too Deep
Invisible Touch
Throwing It All Away
I Can't Dance
No Reply At All
Paperlate
No Son of Mine
Tonight, Tonight, Tonight
Abacab
Land of Confusion
Never A Time
Mama
That's All
Just A Job To Do
Taking It All Too Hard
Jesus He Knows Me
Man On The Corner
Misunderstanding
It's Gonna Get Better
Genesis may be available for your next special event.
For booking information, click HERE!
---
To book Genesis for your special event,
contact Richard De La Font Agency, Inc.
For faster service, this is required first - click on this link: https://www.delafont.com/contactselect.htm