PRINTER FRIENDLY PAGE. To view this artist's HOME page, click or visit: https://www.delafont.com/music_acts/gilberto-santa-rosa.htm **
Booking Gilberto Santa Rosa - Latin Music Artists - Tropical, Salsa, Latin Pop - © Richard De La Font Agency, Inc. - For serious booking requests only, click here: For More Information
"El Caballero de la Salsa"
(The Gentleman of Salsa)
Gilberto Santa Rosa was born in Puerto Rico and started singing and performing at an early age. In 1977, when he was only 14 years old he was given the opportunity to record. In 1979 he recorded with Orquesta La Grande, directed by Jose Canales. Later he met Elias Lopes who helped refine him as a singer and brought him along to various recording dates, where he recorded jingles, and sang coro in tropical music as well as other genres. That same year, producer Frankie Gregory gave Gilberto the opportunity to participate in the recording "Homanaje a Eddie Palmieri" by the Puerto Rico All-Stars and in various live shows with this distinguished group.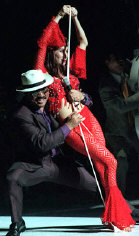 The 80's were truly the turning point of his career. He was a member of Tommy Olivenica's band from 1979 to 1981, with whom he made one recording. Then, in 1981 he joined Willie Rosario's band with whom he recorded six albums between 1981 and 1986.
In August of 1986, Gilberto Santa Rosa made his debut as a soloist and director of an orchestra with the help of Combo Records, Rafael Ithier and producer Ralph Cartagena, for whom he recorded four albums: "Good Vibrations," "Keeping Cool," "De Amor y Salsa" and "Salsa en Movimiento."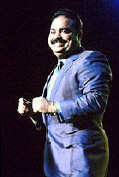 In May of 1990 he debuted in one of the most important venues of his native Puerto Rico: the Centro de Bellas Artes in a concert with Luis Enrique.
In the mid-90s, Gilberto Santa Rosa left Combo Records and joined the CBS label, which today is known as Sony Discos. His first production for that label was "Punto de Vista," which went platinum. His next albums were 1991's "Perspecitva," 1993's "A dos tiempos de un tiempo" (an homage to the great Tito Rodriguez) and 1993's "Nace Aqui," all of which earned him Gold and Platinum records and other prizes like Agueybana, Paoli, Haca, Tu Música, Ronda and various nominations at Premio Lo Nuestro.
In 1993, his eight sold-out shows at Centro de Bellas Artes broke records for tropical artists at that venue. He performed at the NY Salsa Festival at Madison Square Garden produced by Ralph Mercado where he earned critical acclaim by the local press. In addition, he performed at two salsa festivals in Mexico City and the Festival of Jazz and Latin Music in New Orleans.
At the end of 1994 Gilberto Santa Rosa released "De Cara Al Viento," a production of 13 songs, and in them for the first time he added arrangements for strings without losing his trademark style. "De Cara Al Viento" is an album that Gilberto himself feels is one of his most complete recordings.
On March 23, 1995, Gilberto became the first Puerto Rican singer of his generation to perform as a soloist at Carnegie Hall in New York City, before a full house in a concert titled "The Man and His Music." This performance was recorded and later released by Sony under that title.
In 1996, after two years of hard work in the studio, Gilberto released "Esencia," an album of 12 songs by some of the best songwriters in the business, including three by Omar Olfano ("Esas Lagrimas," "Siempre Acabo Igual" and "Dolia Menos") as well as songs by Jorge Luis Piloto ("Yo no te pido"), Manny Benito ("Me Falto") and the great Armando Manzanero ("No ha pasado nada").
Hit songs include --
Conteo Regresivo
Dejate Querer
No Quiero Na' Regala'o
Por Más Que Intento
Pueden Decir
Que Alguien Me Diga
Si Te Dijeron
Sombra Loca
Yo No Te Pido
La Agarro Bajando
Esas Lágrimas
Mal Herido
Peligro
Un Montón de Estrellas
Pueden Decir
Sueños Son
Te Propongo
Esa Parte de Mi
Que Se Lo Lleve el Rio
La Sigo Amando Tanto
Gilberto Santa Rosa may be available for your next special event.
For booking information, click HERE!
---
To book Gilberto Santa Rosa for your special event,
contact Richard De La Font Agency, Inc.
For faster service, this is first - click on this link: https://www.delafont.com/contactselect.htm