PRINTER FRIENDLY PAGE. To view this group's HOME page, click or visit: https://www.delafont.com/music_acts/godsmack.htm **

Booking Godsmack - book Alternative Rock Music Artists - Industrial Metal, Post-Grunge, Alternative Metal, Heavy Metal - © Richard De La Font Agency, Inc. - For serious booking requests only, click here: For More Information

Godsmack is a Boston-based band who is simply too undeniable to be ignored. Their self-titled major label debut isn't a calculated, big-budget offering. In fact, it started out as a self-released CD the band recorded in 1996 for about $2,500 with money they borrowed from a friend. Expecting maybe to make back the costs of recording, they peddled the disc to a local radio station. WAAF embraced the song "Keep Away" and began playing the song on its weekly evening program.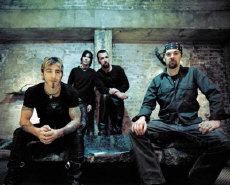 Meanwhile, the band was performing regularly on the Boston club scene and soon drew the attention of Paul Geary, a long-time friend of Sully's and former drummer and manager of the group Extreme, who inevitably signed the band to his management company PGE.
Before long, airplay increased dramatically. With the blistering track "Whatever" (a combustive cut that grooves as it grinds) being spun regularly on WAAF, sales grew at a staggering rate. The disc became the #2 best-selling album at Newbury Comics.
"I was really shocked," recalls Sully, "Our album began selling 900 to 1000 copies a week!" After meeting with several interested labels, Godsmack chose to sign with Republic Records in July 1998.
Before Sully formed Godsmack, he played drums in a band called Strip Mind, which broke up in 1994. For a year, he went into hibernation, then he started getting that itch to write music again. So, he called up his friend/bassist Robbie Merrill and asked him if he was interested in jamming on some new stuff. The two hooked up with drummer Tommy Stewart (ex-Lillian Axe) and local guitarist Lee Richards. A few months later, both Richards and Stewart quit the band. Guitarist Tony Rombola skillfully slipped into the guitar slot and a guy named Joe Darko filled the drumseat for a few years, although he didn't actually play on the band's record. That honor was held by Sully, who has been playing drums since age four. In 1997, after the band's star sign had begun to rise, Darko left and Godsmack invited original drummer Stewart back into the fold.
"There are a lot of emotional highs and lows in my songs, but they're genuine emotions" says Sully, "I seem to do my best writing when I'm down. For me, writing is a release of energy." In addition to channeling his energies through Godsmack's aggressive music, he channels that energy via more spiritual paths as well.
In 2000, after another stint on OzzFest, Godsmack returned to prove its first effort was no fluke. "Awake" debuted at No. 5 on the national sales chart, and spawned more rock radio hits, including the chart-topping title track. Aside from the radio and sales success, the band scored its first Grammy in 2002 for best rock instrumental performance for the "Awake" track "Vampires."
Hit songs include --
Whisky Hangover
Awake
I Stand Alone
Speak
Straight Out of Line
Greed
Re-Align
Running Blind
Shine Down
The Enemy
Keep Away
Voodoo
Serenity
Touche
Whatever
Bad Religion
Good Times Bad Times
Bad Magick
Other notable songs include --
Goin' Down
Moon Baby
Time Bomb
Godsmack may be available for your next special event.
For booking information, click HERE!
---
To book Godsmack for your special event,
contact Richard De La Font Agency, Inc.
For faster service, this is required first - click on this link: https://www.delafont.com/contactselect.htm