PRINTER FRIENDLY PAGE. To view this artist's HOME page, click or visit: https://www.delafont.com/music_acts/gordie-brown.htm **
Booking Gordie Brown - Singing Impressionists - © Richard De La Font Agency, Inc. - For serious booking requests only, click here: For more information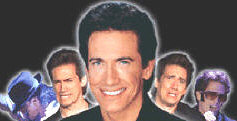 Gordie Brown
---
With material that keeps his audiences laughing and an act that manages to get a standing ovation time after time, comedian and singing impressionist Gordie Brown seems to have it all going for him.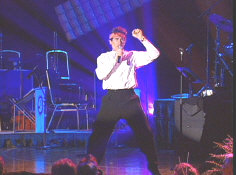 Gordie Brown, who is currently headlining at Harrah's Reno, was born and raised in Montreal, Canada. Gordie began working as a political cartoonist for the Ottawa Sunday Herald. After his co-workers entered him in an industry talent competition in which he took first prize, Gordie caught the entertainment bug.

Shortly afterward, Gordie pulled together $3,000, jumped in his car and headed south for Las Vegas. His goal was to break into the big time and work with fellow Canadians Paul Anka and Rich Little. The gamble paid off. In less than two years, Gordie Brown was opening for both Anka and Little for more than a year. Gordie went on to work with Jay Leno, Louie Anderson, Kenny Rogers, Randy Travis, Barry Manilow, The Righteous Brothers and Jerry Seinfeld.
Gordie moved to Los Angeles to pursue his career in stand up comedy where he had his national television debut on A & E's "Evening at the Improv." Founder of the Improv, Budd Friedman said, "Through the years I've seen thousands of comedians, and few have caught my eye and attention like Gordie Brown."
After co-hosting NBC's "Friday Night Videos," Gordie later wrote and sang the theme song for the Emmy award winning animated series "Life with Louie." He made several appearances on "Hollywood Squares" and also landed the starring role of 'Mr. Jones,' the caretaker of souls who encourages pivotal second chances, on Pax TV's "Twice in a Lifetime," a weekly hour-long drama series executive produced by Emmy Award winner Barry Rozenzweig.
Gordie Brown continues to perform on stage; more than 100 shows a year for such corporations as Ford, AT&T, Pepsico and Motorola.
Gordie Brown may be available for your next special event.
For booking information, click HERE!
---
To book Gordie Brown for your special event,
contact Richard De La Font Agency, Inc.
For faster service, do this first - click on this link: https://www.delafont.com/contactselect.htm