PRINTER FRIENDLY PAGE. To view this artist's HOME page, click or visit: https://www.delafont.com/music_acts/gregory-abbott.htm **

Booking Gregory Abbot - R&B Music Artists - Urban, Quiet Storm - © Richard De La Font Agency, Inc. - For serious booking requests only, click here: For More Information

Platinum recording artist, songwriter and producer Gregory Abbott has roots that stem from Venezuela (his mother) and the Island of Antigua (his father). Raised in New York City, he is a dual citizen of the USA and Antigua.

In college he majored in psychology and minored in music and dramatic arts. He holds a Masters degree and is currently working towards his Ph.D. While pursuing graduate studies at Berkeley and Stanford, Gregory helped pay his tuition by starting a band. It was here he developed his own personal musical style. While teaching English at Berkeley, he decided to become a professional musician, built a studio and applied his academic discipline to developing skills as a singer, composer and producer.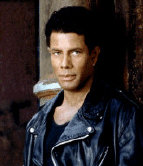 He released the single and album "Shake You Down" shaking up the music industry with countless honors and awards including three top ten hits. The platinum single "Shake You Down" has become the fastest song in the history of BMI to reach one million radio airplay's (It's now more than three million), and won BMI's Pop Song of the Year award. Gregory's music has crossed every barrier imaginable. You hear the Caribbean/Spanish influence in his music, topped off with his incredibly smooth and soulful voice.
Gregory Abbott is noted for coining the term "groove ballad," his signature style. When referring to him music writers have affectionately used the term "Wall Street Soul." He is a favorite with the ladies for his sophisticated demeanor and intelligent green eyes, with a sense of something much more bubbling beneath the surface.
Gregory Abbott's songs have gone to #1 on Billboard R&R, and Gavin's Pop, Urban, AC, UC and Dance charts among others. He's won first prize at the Tokyo Music Festival, two "Soul Train" music awards, has been the star of the New York Music Awards (receiving four), and two CEBA Awards (Communications Excellence Aimed at Black Audiences) among many many others.
He comes from a family of entertainers. His first cousin, Diahnne Abbott, was for many years married to actor Robert De Niro, and is herself an actor of merit. Gregory has guest-starred on the daytime drama "All My Children" and is now delving more heavily into acting and film production. Some of his work has appeared in the San Francisco International Film Festival.
Gregory's community service work includes Rock Against Drugs, joining them when they brought their message to Washington, DC. He has also participated in the "Bands to Beat AIDS" campaign, whose focus is AIDS awareness across the nation. He has served on the Board of Directors of both NARAS (the Grammys), and the NAPM (Songwriters Hall of Fame).
Hit songs include --
Shake You Down
I Got The Feelin' (It's Over)
I'll Prove It To You
Let Me Be Your Hero
Gregory Abbott may be available for your next special event.
For booking information, click HERE!
---
To book Gregory Abbott for your special event,
contact Richard De La Font Agency, Inc.
For faster service, do this first - click on this link: https://www.delafont.com/contactselect.htm
For serious booking requests only.
Thank you for this consideration.