PRINTER FRIENDLY PAGE. To view this artist's HOME page, click or visit: https://www.delafont.com/music_acts/hezekiah-walker.htm **
Booking Hezekiah Walker and the Love Fellowship Crusade Choir - Gospel Music Artists - Contemporary Gospel, Gospel Choir - © Richard De La Font Agency, Inc. - For serious booking requests only, click here: For More Information
Since joining a major record label in the early '90s, Hezekiah Walker has become one of the undoubted stars of the gospel world, his powerful voice recognized throughout America and beyond. Growing up in the Fort Greene housing projects of Brooklyn, New York, Walker formed his first gospel group, the Love Fellowship Crusade Choir (LFCC) in his early twenties – as an extension of his activities as the ordained Pentecostal minister of the Love Fellowship in Brooklyn.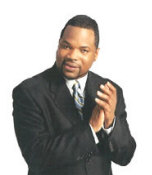 That group released albums for independent labels in 1987 and 1990, before Walker judged the time was right to launch his solo career. His first album, 1992's "Focus On Glory," was well-received by the gospel music press. However, it was the following year's "Live In Toronto" that really provided him with his breakthrough, rising to the top of the gospel charts. His subsequent efforts have done well, particularly "Live In Atlanta At Morehouse College," which won a Grammy Award for Best Gospel Album By A Choir Or Chorus.

In the process Hezekiah Walker has committed to posterity a canon of excellent songs – particularly "Clean Inside" and "99 And A Half." His efforts have been widely credited with increasing the interest of young people in gospel, while the LFCC have maintained a healthy profile of their own, backing Whitney Houston at the 1996 Grammy Awards and playing a sold-out show with Hootie And The Blowfish at New York's Apollo.
Hit songs include --
Grateful
Lift Him Up
Faithful Is Our God
Let's Dance
Better
Every Praise
Notable songs include --
Lord, Send Your Spirit Down
99 1/2
Focus on Glory
Clean Inside
Jesus Is My Help
I Can Make It
Try Christ
I'm Waiting
How Much We Can Bear
You Have Been Right There
Hezekiah Walker may be available for your next special event.
For booking information, click HERE!
---
To book Hezekiah Walker for your special event,
contact Richard De La Font Agency, Inc.
For faster service, do this first - click on this link: https://www.delafont.com/contactselect.htm
For serious booking requests only.
Thank you for this consideration.