PRINTER FRIENDLY PAGE. To view this artist's HOME page, click or visit: https://www.delafont.com/music_acts/ja-rule.htm **

Booking Ja Rule - Rap Music Artists - Hardcore Rap, East Coast Rap, Gangsta Rap - © Richard De La Font Agency, Inc. - For serious inquiries only, click here: For More Information

If the company you keep is any indication of your own merit, then Def Jam's rap phenomenon, Ja Rule is destined for greatness. Juggling roles within DMX's Ruff Ryder camp and Jay-Z's Roc-a-fella imprint, the native of Hollis, Queens, has been responsible for some of today's hottest hip hop verses.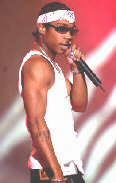 Ja's distinctive gravel-stone voice and fiery presence have blessed projects that include: "Murdergram" a single on the "Streets is Watching" Soundtrack; Jay-Z's "Can I Get A…;" and "Gangsta Shit" from DJ Clue's "The Professional." Importantly, with the release of his debut album "Venni, Vetti, Vecci" (Latin for "He came, he saw, he conquered"), Ja Rule established his place as a force to be reckoned with in today's competitive environment.

Rhyming from the age of 16, Ja (taken from his initials Jeff Atkins) made his first vocal appearance on Mic Geronimo's 1995's "Time To Build," the B-side to Mic Geronimo's "Masta I.C." The track's producer and fellow Hollis, Queens, neighbor, Irv Gotti heard of Ja Rule from around the way and immediately enlisted his services. Building from the strength of his debut appearance, Ja and two friends, collectively known as "The Cash Money Click" signed an album deal with Blunt/TVT Records. Their first and only single, '95's "Get The Fortune," b/w "For My Click" saw rotation on New York's Hot 97.
After a great first effort, longtime friend Irv Gotti, Ja secured a meeting with Def Jam president, Lyor Cohen. In a strange turn of events, Lyor, impressed by Irv's street sense and business savvy, hired him as an A&R representative, whose first order of business was to sign Ja Rule to Def Jam.
Hit songs include --
Caught Up
Always On Time
Put It On Me
Holla Holla
Mesmerize
Wonderful
Between Me And You
Livin' It Up
Down A** B**ch
New York
Thug Lovin'
I Cry
Clap Back
Down A** Chick
6 Feet Underground
Never Again
How Many Wanna
Ja Rule may be available for your next special event.
For booking information, click HERE!
---
To book Ja Rule for your special event,
contact Richard De La Font Agency, Inc.
For faster service, this is required - click on this link: https://www.delafont.com/contactselect.htm
For serious booking requests only.
Thank you for your cooperation.