PRINTER FRIENDLY PAGE. To view this group's HOME page, click or visit: https://www.delafont.com/music_acts/jamiroquai.htm **

Booking Jamiroquai, R&B artists - book R&B Artists - Urban, Acid Jazz, Club/Dance, Adult Alternative Pop/Rock, Alternative Dance, Retro Soul, Alternative Pop/Rock, Trip-Hop, Pop/Rock - © Richard De La Font Agency, Inc. - For serious booking requests only, click here: For More Information

Jamiroquai's odyssey through the galaxy of funk has generated some spectacular statistics. Four albums released since Jay Kay's 1992 emergence from London's acid jazz underworld have sold 16 million copies. Two albums alone, 1996's "Travelling Without Moving" and 1999's "Synkronized", shifted more than 11 million between them. If front man Jay Kay was a little less self aware, he would be over the moon about all those skyscraping figures.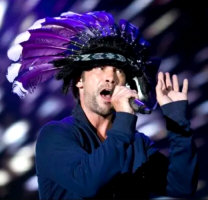 "Success is when I see all those people standing out there in front of me having a good time, and knowing that you've got a great album on your hands that you enjoy as much as they do," says Jay. "What's important about selling 16 million albums is it's right across the world. It's not just the UK, there's a whole world of people out there."
Boogie is back big time. From Paris discos to L.A. film sets, the history of classic, pre-techno dance music has been rolled out as the new hip thing. Meanwhile Jamiroquai have moved on, ahead of the game, taking their funky fusion to the next level of evolution. The hints of a turbo re-vamp to their organic groove were there on "Synkronized". "A Funk Odyssey" overhauled the engine on the Jamiroquai funk machine to bring it in line with the sharpest technological dance. As club music matured, whatever boundaries were there separating Jamiroquai from a Daft Punk or a Basement Jaxx have become permeable - and Jay was there before them all.

Issued through Sony's S2 after signing a long term deal, the organic superbadness of the debut Jamiroquai album "Emergency On Planet Earth" impacted on a British musical climate still in the grip of post-acid house pseudo phuturism. Despite coming from an allegedly 'specialist' musical tributary, the immediate ascent of his debut to the top of the 1992 album charts was unstoppable.
Young, cocky and full of funk, Jamiroquai was a spanner in the works for the theoreticians. If Bootsy Collins and Gil Scott Heron are giving you the thumbs up, contemporary hip hop names from Gang Starr's Guru to Busta Rhymes to Missy Elliott want to work with you or sample you, you must be doing a lot right. Couple that with the fact that, through the 90's, even the most dedicated media cynics were forced to accept that Jamiroquai has consistently been an amazing live band.
Jamiroquai had and continues to have a lot of front, but none of it was faked. Jay chose the name - synonymous with both the man and the band - for its reference to the Iroquois tribe, reflecting his own empathy for their displaced status and earth aware mentality. Environmentalism and holistic politics were also the shaping force behind many of the lyrics on "Emergency On Planet Earth".
Expressing his spiritual hopes in those early days did not make life easy for Kay as they collided with a put-down hungry media. His uncalculated and off the cuff honesty certainly appeared to be appreciated by a general public used to insipid celebrity soundbites. Clearly not everyone thought that only saints should have opinions.
With keyboard player and founder member Toby Smith as his main co-writer and a settled band, Jamiroquai spent the six years after his breakthrough proving that with the help of some ultra-cool videos, British urban superfly fusion could compete with the best pop and dance music the globe could offer. Britain was won over by the top ten singles 'Too Young To Die' and 'Blow Your Mind', lifted from the debut album, and with the follow up, 1994's "Return Of The Space Cowboy", Jamiroquai went international. "Cowboy" took off in Europe and Japan as well as going platinum in the UK. By 1997 they were breaking through big style in the U.S., picking up four MTV awards and a Grammy for "Travelling Without Moving" - which shifted one and a half million copies over there. The single "Virtual Insanity" dealt with the dangers of biogenetic engineering and set the seal on global chart domination, neatly followed by two more top ten's: "Cosmic Girl" and "Alright".
The multi million selling triumph of "Travelling", and the grueling world tour that accompanied it, allowed Jay to take time off in 1998, yet even that year had its moment of triumph with the number one hit single "Deeper Underground", written specially for the movie "Godzilla". With personnel shifts in the band taken care of and a studio installed in his recently purchased Buckinghamshire manor, Jay was able to test the water for his future direction with 99's four million seller "Synkronized".
As Jay boldly launches out into the next phase of his funk trek Jamiroquai has evolved into a multi-platinum funk myth, with all the surrounding distortion and delicious madness of a classic rockstar. He has the country retreat, the tabloid attention on his love life, the fast cars, the loose tongue, the mercurial attitude, qualifying him as a fully fledged, top value superstar. As Britain's Q magazine recently put it: "Jamiroquai is the kind of pop star we could do with more of."
In the new century, however, it's harder to regard his achievements as genre bound or somehow peripheral to the main event. Consider this: when Jamiroquai started out he was a skinny white kid making black music, with a disco-funk edge and warnings about eco threats and Third World debt. This big rap star is a skinny white kid, disco and funk are fully rehabilitated, and the new counter-cultural coalition is out in the streets protesting eco threats and Third World debt. Maybe it's time to credit Jay Kay for his intuition.
"I'd just like to have a good year musically," says Jay. "I can't think of anything else I want now, because it takes over your life. But I love the whole rollercoaster ride of it."
Hit songs include --
(Don't) Give Hate A Chance
Feels Just Like It Should
Runaway
Seven Days In Sunny June
Canned Heat
Space Cowboy
Supersonic
Little L
You Give Me Something
Light Years
Alright
Cosmic Girl
Virtual Insanity
Jamiroquai may be available for your next special event.
For booking information, click HERE!
---
To book Jamiroquai for your special event,
contact Richard De La Font Agency, Inc.
For faster service, do this first - click on this link: https://www.delafont.com/contactselect.htm