PRINTER FRIENDLY PAGE. To view this artist's HOME page, visit: https://www.delafont.com/music_acts/jay-z.htm **

Booking Jay-Z - Rap Music Artists - East Coast Rap, Gangsta Rap - © Richard De La Font Agency, Inc. - For serious booking requests only, click here: For More Information

"If I shoot you, I'm brainless/But if you shoot me, you're famous/What's a n*gga to do?" - "Streets Is Watchin'"

These are the type of street truths that has garnered Roc-A-Fella/Def Jam's Jay-Z the multitudes of devout fans that he has. They're strong, they're hard hitting, and they're real.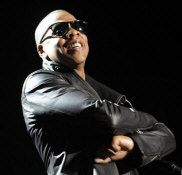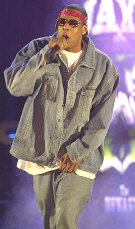 As Hip-Hop enters yet another era of dimension, Jay-Z is emerging as the leading "Don" of the Rap game. He modestly explains his lyrical motivation as something that just comes to him. "It's just there," he says. "I don't write songs, they just form. I could be riding around, I'll think of a particular topic, rehearse it and immediately come up with the song." His penchant for knockin' out flavorful joints first became apparent when he burst onto the scene on "The Originators" with his man, The Jaz, in 1990. Possessing a rapid-fire delivery combined with relevant and intriguing lyrics, his buzz soon spread when he went on to collaborate with Original Flavor on the notable cut "Can I Get Open?"
Reflecting on those days of scrambling and actively seeking a deal, Jay-Z has this to offer --
"My man Jaz introduced me to this whole thing as a business. And through seeing all the things that happened to him, I learned a lot." He continues "after going to a couple of A&Rs, I soon realized they couldn't understand where I was coming from. But I knew there was an audience of people who understood and really felt what I was going through, 'cause it was real!"
Fate (and the streets) would lead Jay within the circle of young Harlem music entrepreneur Damon Dash, from which an immediate alliance between the two was made and alas, Roc-A-Fella Records was born. "Being that I gained that experience with Jaz, I felt that we could put together Roc-A-Fella. With my partners Damon Dash and (third partner) Biggs, we make the whole unit tighter." The talent-heavy label is churning out hits, as well as honing a host of other young acts.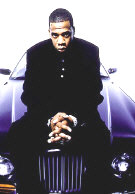 With the release of his stellar 1996 Gold debut "Reasonable Doubt," Jay-Z was soon to become a household name driven by the smash singles "Can't Knock The Hustle," "Feelin' It" and the Gold single "Ain't No N*gga" (featuring Foxy Brown). Although "Reasonable Doubt" has been heralded as a certified classic by fans and critics alike, the humble Brooklyn MC is very quick to place his successful debut in its proper perspective. "I view the first album as like an introduction," he explains. "Not to take away from it in any way, but it wasn't too detailed. Whereas, with 'In My Lifetime Vol. 1,' I really took it there."
The hot leadoff single "Sunshine" pairs Jay-Z, a.k.a. Jhigga, with his longtime Hip-Hop female counterpart Foxy Brown, as well as an unlikely appearance by R&B superstar Babyface. Jay-Z, along with the industry's hottest figures, such as Puff Daddy (now P. Diddy) and Lil' Kim ("I Know What Girls Like"), Too $hort ("Real Niggaz"), Blackstreet featuring Teddy Riley ("The City Is Mine"), Trackmasterz ("Face Off"), DJ Premier ("Million & One Questions" and "Rhyme No Mo") and a host of others, combined their talents to do their thing and enhance Jay-Z's second coming.
It goes without saying that his family and the public are "feeling" Jay-Z right now.
Hit songs include --
'03 Bonnie & Clyde
Ain't No *****
Big Pimpin'
Excuse Me Miss
I Just Wanna Love U (Give It 2 Me)
Jigga My N****
Can I Get A...
Dirt Off Your Shoulder
Hard Knock Life
Show Me What You Got
Can't Knock The Hustle
Change Clothes
Girls, Girls, Girls
Izzo (H.O.V.A.)
Who You Wit II
Hovi Baby
Jigga
Roc Boys (And The Answer Is)...
99 Problems
Change The Game
Jay-Z may be available for your next special event.
For booking information, click HERE!
---
To book Jay-Z for your special event,
contact Richard De La Font Agency, Inc.
For faster service, do this first - click on this link: https://www.delafont.com/contactselect.htm