PRINTER FRIENDLY PAGE. To view this artist's HOME page, click or visit: https://www.delafont.com/music_acts/jewel.htm **

Booking Jewel Kilcher - book Rock Music Artists - Adult Alternative Pop/Rock, Singer/Songwriter - © Richard De La Font Agency, Inc. - For serious inquiries only, click here: For More Information

"I wanted to focus on the craft of performing and songwriting. I've always been a live musician, and I wanted my voice to shine through. To me, relevance means staying honest about where you are. The most important thing to me is maintaining my authenticity."

Since she started writing songs at the age of 17, Jewel Kilcher's music has been a direct, open expression of her life at the time, a series of intimate portraits of the artist as a composer, performer, and human being. Her debut album, released when she was 20, reflected the heart and mind of a teenaged girl; her second those of a rapidly maturing young woman. Both musically and lyrically, Jewel displays many different sides of her talent and her personality.

"I have learned to insist on pacing myself better," she explains, "valuing the fact that for my art and writing I need to be able to get outdoors, to be in the open spaces that I relied upon in years past. By doing this, I hope to be able to sustain myself and replenish the well, so I can continue to write and work consistently."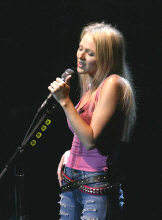 "My expertise is in how to work a crowd and communicate with an audience," Jewel says, "so making records was really foreign to me at first. You're in the studio, singing to no one, which is really kind of absurd. I'm a lot more comfortable now. The craft of recording music isn't as foreign to me anymore."
"I don't want to look back on my music the way you look back on your photos in high school, when you had poofy hair," Jewel laughs. "I'll always be curious musically and want to try new things, but above all, I want the music to sound honest and good in 20 years."
Raised in Alaska, Jewel has been celebrated as one of the most gifted and accomplished artists in popular music today, with worldwide album sales of more than 23 million albums. Her 1995 debut, "Pieces of You," received the RIAA's prestigious Diamond Award for U.S. sales in excess of 10 million units (and is currently certified at 11 million). The album, which includes the hit singles "You Were Meant For Me," "Who Will Save Your Soul," and "Foolish Games" spent a remarkable 114 weeks on the Billboard 200, where it hit the #4 mark.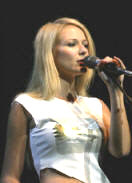 Jewel's highly anticipated second album, "Spirit," was released in 1998 to much popular and critical acclaim. The Patrick Leonard-produced collection featuring the singles "Hands," "Down So Long," and "Jupiter (Swallow The Moon)" made its debut in the #3 position on the Billboard 200 and was certified platinum out-of-the-box. It sold 6 million worldwide, making it one of the most successful sophomore albums.
1999 saw the release of "Joy: A Holiday Collection," produced by the legendary Arif Mardin. The album includes performances of a number of seasonal favorites and new Jewel originals, including a unique Christmas-themed version of "Hands." Two songs featured on the platinum-certified "Joy" revealed the increasing depth and diversity of the artist's talent and vision: the dynamic expression of faith, "Face of Love," as well as the stirring "Gloria," a Latin composition.
Jewel was also featured on Merle Haggard's 1999 album, "For The Record." The album includes two duets by Jewel and the legendary country musician/songwriter, "That's The Way Love Goes" and "Silver Wings."
Whether alone on stage with just her guitar or fronting a band of musicians, Jewel has always been a charismatic live performer. Along the way, she has earned the respect of the likes of Bob Dylan and Neil Young, both of whom invited her to open their shows. Since the release of her first album, she has forged a powerful, intimate bond with concert-goers around the globe. On top of numerous tours across North America, Jewel has also performed to sell-out crowds in Asia, Australia, and Europe, where she was acclaimed by the influential Times of London as "the most sparkling female singer-songwriter since Joni Mitchell."
December 1997 saw Jewel performing as part of the annual Nobel Peace Prize ceremonies in Oslo, Norway. In January 1998, she was welcomed home to San Diego to sing The Star-Spangled Banner prior to the opening kick-off of Super Bowl XXXII. In December of that same year, Jewel played for Pope John Paul II as part of the 6th Annual Natale in Vaticano concert in Vatican City. The concert, that included a performance of "Hands" accompanied by a 100-piece orchestra and a 40-member choir, was televised throughout Europe on Christmas Eve.
In addition to her many sold-out headlining performances, Jewel has been part of a number of important concert events, including Woodstock 1999. The festival found Jewel and her band performing before the largest live audience of her career not to mention millions of TV viewers around the world. Despite a sudden downpour in the middle of "Foolish Games," the set was widely considered a highpoint of the weekend.
Later that year, Jewel performed for President and Mrs. Clinton as part of the annual Christmas In Washington charity concert assisting the Children's National Health Center. In August of 2000, she performed at the Nashville rally where Vice President Al Gore announced his running mate, Senator Joseph Lieberman, and she subsequently served as an eloquent spokesperson for their Presidential campaign.
Jewel's considerable accomplishments as a singer, songwriter, and performer represent just one area of her creative life. Her debut poetry collection, "A Night Without Armor," was released by HarperCollins in 1998, and quickly became a mainstay of The New York Times' best-seller list, with 29 printings and a remarkable million-plus copies sold. In addition, the unprecedented success of the audiobook release of her poetry collection led to Jewel receiving the 1999 Audie Award from the Audio Publishers Association. The fall of 2000 saw the successful publication of Jewel's second book, the intimate and honest "Chasing Down The Dawn" (HarperCollins). A striking chronicle of an artist's turbulent life on the road, written primarily during the 1999 SPIRIT World Tour. "Chasing Down The Dawn" also includes photos taken by Jewel, images and poignant vignettes from her childhood in Alaska, and tales of challenges faced as a daughter, sister, young woman, and creative artist.
In 1999, Jewel made her acclaimed acting debut in Ang Lee's much-admired Civil War drama, "Ride With The Devil." "Jewel conveys an orneriness and tough humor beneath a facade of 19th-century decorum," declared the New York Times' Stephen Holden, while Roger Ebert writing in the Chicago Sun Times, noted that "Jewel deserves praise for, quite simply, performing her character in a convincing and unmannered way. She is an actress here, not a pop star trying out a new hobby."
1999 also saw the release of Jewel's first full-length home video, titled "Jewel: A Life Uncommon." The autobiographical documentary features an hour of archival footage of the artist's life, both on and off the road, as well as revealing interviews with those closest to Jewel. In addition, the video includes four exclusive live performances from Jewel's April 25, 1999 concert at the Henry Fonda Theater in Los Angeles, benefiting Higher Ground For Humanity, the humanitarian organization founded in January 1999 by Jewel and her mother and manager, Lenedra J. Carroll as a means to promote global community and individual action to inspire positive change.
Among Jewel's many accolades are three Grammy Award nominations, an American Music Award, and an MTV Video Music Award. In June 1999, Jewel was presented with the prestigious Governor's Award from the Los Angeles chapter of the National Academy of Recording Arts and Sciences (NARAS). The award acknowledges Academy members "whose creative talents and accomplishments have crossed all musical boundaries and have been recognized as an asset to our music community."
Jewel also received a number of other tributes that year, including the 1999 Founder's Choice Award from the non-profit Time For Peace organization, as well as being named one of Glamour magazine's 10th Anniversary Women Of The Year for her dedication to humanitarian goals.
Hit songs include --
Foolish Games
Intuition
Serve The Ego
Stand
Standing Still
You Were Meant For Me
Hands
Who Will Save Your Soul
Down So Long
Only One Too
Stronger Woman
Again and Again
Break Me
Good Day
2 Become 1
Jewell may be available for your next special event.
For booking information, click HERE!
---
To book Jewell for your special event,
contact Richard De La Font Agency, Inc.
For faster service, this is required - click on this link: https://www.delafont.com/contactselect.htm
For serious booking requests only.
Thank you for your cooperation.