PRINTER FRIENDLY PAGE. To view this artist's HOME page, click or visit: https://www.delafont.com/music_acts/John-Fogerty.htm **

Booking John Fogerty - Rock Music Artists - Heartland Rock, Roots Rock, Rock & Roll - © Richard De La Font Agency, Inc. - For serious inquiries only, click here: For More Information

The music of John Fogerty has always lent itself to a live setting. Just ask the uncounted bar bands who, for years, have kept the patrons placated with open-ended renditions of "Proud Mary" or "Born On The Bayou," "Green River" or "Bad Moon Rising." Here, obviously, is music meant to be heard up-close and in-person.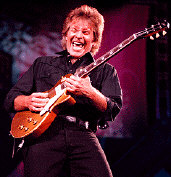 It's all the more ironic, then, that the man who has made some of the most spontaneously celebratory sounds the world has ever known should himself have been woefully underrepresented in the live recording arena. The documentary evidence of John Fogerty live can, in fact, be counted on the fingers of one hand: "Live In Europe," recorded during Creedence Clearwater Revival's 1971 continental concert tour and released two years later, after the group's demise; 1981's "The Concert," originally released as "The Royal Albert Had Concert" before the record company confessed it actually contained material recorded in Oakland, California in 1970; 1985's "John Fogerty's All Stars," an in-concert television special (never commercially released), along with, of course, the requisite muddy and muffled bootlegs making the record collector rounds.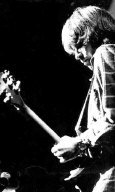 For fans of authentic American rock 'n' roll, passionately and persuasively performed, it seems that the legend of John Fogerty's electrifying stage presence would remain just that – a you-shoulda-been-there tall tale told by veteran fans.
John Fogerty delivers the timeless essence of his music. A genuine showman, an entertainer dedicated to the proposition that every audience deserves his very best, John Fogerty on stage is a sight to behold and a sound to savor.
Fogerty undertook an extraordinary personal and creative odyssey following the release of his two solo comeback albums: 1985's "Centerfield" and 1986's "Eye Of The Zombie." It was a search that brought him both to a nurturing and supportive family environment with his marriage to wife Julie and to a musical rebirth as he explored the back roads and by-ways of the American South in search of his musical roots.
The results of that journey are brilliantly chronicled on "Blue Moon Swamp," his 1997 release and first new record of original material in more than ten years. Hailed as a true original's triumphant return to form, "Blue Moon Swamp" would eventually go on to garner the artist his first-ever Grammy for Best Rock Album of the year.
John Fogerty was honored as a composer, with the 1997 Lifetime Achievement Award from the National Association of Songwriters, and as an instrumentalist, with the Orville Gibson Lifetime Achievement Award. The music of "Blue Moon Swamp" also served as the basis for a solo concert tour that, at long last, returned this consummate guitarist, singer, songwriter and quintessential rock 'n' roll performer to the spotlight and landed him Performance Magazine's Theater Tour of the Year Award.
Fogerty's Blue Moon Swamp tour, which took him and his crack backing band across America and Europe, was universally hailed as the concert event of the season. "John Fogerty must have struck a deal with the devil," wrote Jim Farber in Now Entertainment. "Nothing else explains the supernatural perfection of his show." Wrote David Hinckley in the Daily News, "John Fogerty, in top voice, with a wonderful new band and a newfound depth to his guitar work, couldn't do a bad show any more than Michael Jordan could play a bad basketball game." "By the end of the evening," asserted Robert Hilburn in the Los Angeles Times, "John Fogerty had proven that he remains one of the treasures in rock."
Hit songs by John Fogerty include --
The Old Man Down The Road
Change In The Weather
Eye of The Zombie
Centerfield
Rock and Roll Girls
Walking In A Hurrican
Jambalaya (On The Bayou)
Premonition
Headlines
Rockin' All Over The World
Blueboy
Hearts of Stone
Big Train (From Memphis)
Almost Saturday Night
Hit songs by Creedence Clearwater Revival include --
Bad Moon Rising
Green River
Long As I Can See The Light
Lookin' Out My Back Door
Proud Mary
Travelin' Band
Who'll Stop The Rain
Down On The Corner
Run Through The Jungle
Up Around The Bend
Sweet Hitch-Hiker
Have You Ever Seen The Rain
Hey Tonight
Fortunate Son
Someday Never Comes
Commotion
I Heard It Through The Grapevine
Cotton Fields
Lodi
I Put A Spell On You
John Fogerty may be available for your next special event.
For booking information, click HERE!

---
To book John Fogerty for your special event,
contact Richard De La Font Agency, Inc.
For faster service, do this first - click on this link: https://www.delafont.com/contactselect.htm
For serious booking requests only.
Thank you for your cooperation.