PRINTER FRIENDLY PAGE. To view this artist's HOME page, click or visit: https://www.delafont.com/music_acts/jon-bon-jovi.htm **

Booking Jon Bon Jovi - Rock Music Artists - Pop-Metal, Album Rock, Arena Rock, Hair Metal, Heavy Metal, Pop/Rock, Hard Rock - © Richard De La Font Agency, Inc. - For serious inquiries only, click here: For More Information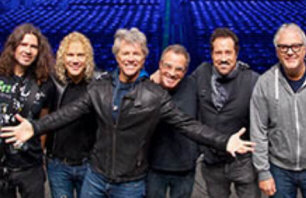 Jon Bon Jovi is one of the busiest and most versatile performers working today. Between juggling his music and acting careers, the dedicated artist consistently delivers quality performances whether it be on the stage with a guitar or in front of the camera as an actor.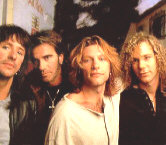 His film career began in 1995 with his critically-acclaimed performance in "Moonlight And Valentino." The Motion Picture Club honored him with the prestigious Premiere Performance Award for his impressive acting debut. He has gone on to star in John Duigan's "The Leading Man," "Homegrown" and "No Looking Back" with Ed Burns and Lauren Holly. He was in "Little City" opposite Annabella Sciorra, and "Row Your Boat," starring William Forsyth and Bai Ling.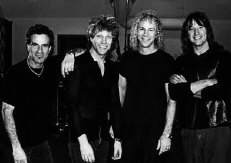 Jon Bon Jovi has been the lead singer of Bon Jovi, one of the biggest recording acts in rock-and-roll history, racking up sales of over 80 million albums worldwide. The group has had the distinction of being one of the industry's top concert draws, selling out arenas and stadiums worldwide. On his own, he wrote the Golden Globe Award-winning soundtrack of "Young Guns II" which was also nominated for an Oscar® the same year. He also released a solo album, "Destination Anywhere."
Hit songs include --
We Weren't Born to Follow
(You Want To) Make A Memory
Have A Nice Day
Welcome To Wherever You Are
Bad Medicine
Everyday
I'll Be There For You
Keep The Faith
Livin' On A Prayer
Who Says You Can't Go Home
You Give Love A Bad Name
Always
Born To Be My Baby
Bed Of Roses
Lay Your Hands On Me
Wanted Dead or Alive
It's My Life
Never Say Goodbye
Have A Nice Day
It's My Life
Living In Sin
Jon Bon Jovi may be available for your next special event.
For booking information, click HERE!
---
To book Jon Bon Jovi for your special event,
contact Richard De La Font Agency, Inc.
For faster service, this is required - click on this link: https://www.delafont.com/contactselect.htm
For serious booking requests only.
Thank you for your cooperation.