PRINTER FRIENDLY PAGE. To view this artist's HOME page, click or visit: https://www.delafont.com/music_acts/juelz-santana.htm **

Booking Juelz Santana, rap artist, LeRon James - book Rap Music Artists - Hardcore Rap, East Coast Rap - © Richard De La Font Agency, Inc. - For serious booking requests only, click here: For More Information

Who knew the Harlem born native, LaRon James, now known to his fans as Juelz Santana, would be one of the hottest artists up and coming in the music industry today?



Born and raised in Harlem, Juelz Santana was certain to make it big. He has been writing rhymes since he was 12 years old. He first started his rap career with his long time friend, Malik, as a rap duo called "Draft Pick." "Draft Pick" had several gigs around New York City while performing together, including Amateur Night at the world famous Apollo Theatre, where they won two weeks in a row. Although the group is not together today, the two members still remain good friends.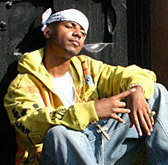 Juelz Santana continued to believe in himself and his unique style, and there was someone else who believed in him, also. His cousin, who is good friends with Cam'ron, decided that it was time for Juelz's unique style to be heard. One day while with Cam, Juelz's cousin drove through his block and had him rhyme for Cam. By the next week Juelz was in the studio recording a verse for the cut, "Double Up", off Cam'ron's second album, "SDE". Cam'ron believed in Juelz, and after signing to Roc-A-fella Records himself, Juelz received a deal with Roc-A-fella Diplomat Records.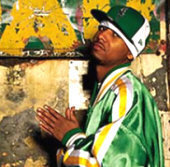 Since then, it has been nothing but up for Juelz Santana. His level of creativity has continued to rise. He has had solo articles in issues of XXL Magazine, as well as articles with the Diplomats in XXL and Source Magazine. Juelz is also featured on the Diplomats Volume 1 and 2 albums. He was voted #2 in the VIBE Vixen top 50 sexiest rappers, behind T.I. at #1. He is notable for the unique ability to rap while refraining from rhyming.

Juelz Santana says "I'm working hard, putting in my all to produce an album that I'm satisfied with and an album that will satisfy my fans."
Hit songs include --
There It Go! (The Whistle Song)
Oh Yes (aka "Postman')
Clockwork
Dipset (Santana's Town)
Back to the Crib
Mic Check
The Second Coming
Juelz Santana may be available for your next special event.
For booking information, click HERE!
---
To book Juelz Santana for your special event,
contact Richard De La Font Agency, Inc.
For faster service, this is required - click on this link: https://www.delafont.com/contactselect.htm