PRINTER FRIENDLY PAGE. To view this artist's HOME page, click or visit: https://www.delafont.com/music_acts/julio-iglesias-jr.htm **

Booking Julio Iglesias, Jr. - Latin Music Artists - Pop, Latin Pop - © Richard De La Font Agency, Inc. - For serious booking requests only, click here: For More Information

Julio Iglesias, Jr. was born in Madrid, which he still visits often, but he was raised in the musical and social melting pot of modern Miami. Like Miami itself, his work has a sultry, international feel. The soulful dance-pop of his debut, with its funky handclaps, occasional techno throbs, and gospel-inflected choruses, seems as well suited to Ibiza as South Florida - and probably every place in between. His is a world beat, and a worldly one, too, a music without borders, sung in English but really speaking the universal language of desire set to a seductive groove.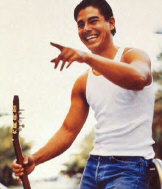 Julio hasn't exactly been a stranger to the spotlight. Before he began to concentrate full-time on his music, he had established himself as an in-demand model and a promising actor who was on a fast track to television success. One look is all you need to understand why the likes of photographer Bruce Weber, after spotting a picture of young Julio with his family, offered him the chance to work on a Versace campaign. Then the esteemed fashion lensman Mario Testino enlisted Julio for a Gap ad. Vanguard New York designer John Bartlett, among others, invited Julio to walk the runway for him. But these were merely glamorous distractions.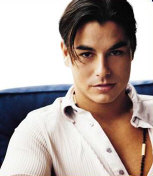 In between his college studies in San Francisco, Julio Iglesias, Jr. – who had long yearned to act – auditioned for an NBC teen-oriented series, "Out Of The Blue," and won a weekly role. He was later enlisted by The Travel Channel to host a 22-episode series exploring exotic destinations in Latin America and South America. Julio got a grand tour of the world south of Dade County and became a familiar face to Latin audiences. He would have become even more familiar if he had accepted the role he was offered on a star-making soap opera for Mexico's major Televisa network. But despite its potential rewards, the multi-year commitment would have kept Julio from his simmering musical ambitions. In the US, he was offered a spot on the New York-based soap "All My Children," but by then, the pull of the music had proven irresistible.
Back in Miami, Julio Iglesias, Jr. hunkered down with his guitar, his voice, his words and a tape deck. He began to collaborate with producer, composer and friend Rodolfo Castillo, with whom he would eventually make "Under My Eyes." They began working in Castillo's home studio, which Julio recalls fondly today, because that humble place represents the roots and the spirit of his music, a simple and safe environment conducive to experimentation and unfettered expression.
Even though "Under My Eyes" is a lushly upholstered affair, Julio has tried to maintain the sense of intimacy and discovery that marked the project's do-it-yourself beginnings. Julio and Rodolfo eventually put in many hours at the Hit Factory in New York and Ocean Way in Los Angeles, along with studio time in Miami, but they still managed to include some of their homemade tracks. Julio particularly wanted his vocals to come from that up-close-and-personal setting.
Julio's voice is equal parts silk and grit, a fervid whisper testifying to passions remembered or imagined.
The charming and handsome Julio Iglesias, Jr. is obviously a man of the world. He can enthuse about the San Francisco 49ers, whom he began to champion during his college days, and in the next breath declare his loyalty to España as far as all things soccer-related. He also enjoys the daytime physical pleasures of Miami: windsurfing, water-skiing, the beach, etc.
Julio is resolutely building a musical career on his own terms. Welcome to his world.
Notable songs include -- .
One More Chance
Nothing Else
I Don't Know Why
Anything
Como Puedo Escapar
Es Tan Difícil
Fe (Faith)
Forever Love
Get into the Groove
Hanging Around
If
It Must Be Love
Juliet
Lonely Nights
Por La Mitad
Prisoner of Her Heart
Promete Decir La Verdad
The Heart of the Matter
The Way I Want You
Tú
Julio Iglesias, Jr. may be available for your next special event.
For booking information, click HERE!
---
To book Julio Iglesias, Jr. for your special event,
contact Richard De La Font Agency, Inc.
For faster service, do this first - click on this link: https://www.delafont.com/contactselect.htm