PRINTER FRIENDLY PAGE. To view this artist's HOME page, click or visit: https://www.delafont.com/music_acts/julio-iglesias.htm **
Booking Julio Iglesias - Vocalists - Adult Contemporary, Latin Pop - © Richard De La Font Agency, Inc. - For serious inquiries only, click here: For More Information
With his dedicated fans, Julio Iglesias has become a one man worldwide musical phenomenon – a multinational force having earned more than 1,500 gold and platinum awards and selling more than 220 million albums in numerous languages to music lovers on every continent on earth.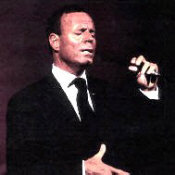 More than any other contemporary musical figure, the tirelessly touring Julio Iglesias has established himself as a true citizen of the world and a most highly-treasured one. Always forward-looking, Iglesias has long been a pioneer in expanding his following by touring in a truly global fashion – hitting not just the major markets, but in developing countries as well. As a result of this hard work, at any given moment, somewhere in the world, a Julio Iglesias song is being played. And enjoyed.

"I am still hungry as an artist, still moved by the music and excited about all of the new songs yet to be sung," Iglesias explains. "Many records I have sold before, I still want to sell records – and thanks to all the amazing fans who support me, I still am able to find an audience. Even now, if I am away from my fans for a few days, I find that I cannot wait to get back on-stage and perform for them again."
Growing up, Iglesias had plans to perform in a different arena – as a soccer player. An aspiring athlete, the young Spaniard was goalkeeper for the world famous Real Madrid team when a tragic car accident left him near death and paralyzed at nineteen. For three years he underwent the difficult process of recuperation. Fortunately, a physician's assistant in the hospital gave Iglesias a guitar to help lift his spirits. He started to write songs, and after recovering, he studied law before dedicating himself to music full-time.
During the Seventies, Julio Iglesias established himself as an international superstar. Before he even arrived on the American music scene with 1984's multi-platinum "1100 Bel Aire Place" album, Iglesias had already earned a place in the Guinness Book of World Records for selling more albums in more different languages than any other artist in history. Since then, he's worked tirelessly as he has continued to both set records and test himself as an artist.
"In a sense, those first records made everything else since then possible. In the Seventies, I was more of a songwriter. Then, I became first an interpreter and a better singer who knew more about music. But as much as I loved singing a song like 'To All The Girls I've Loved Before,' those early songs are more naïve, more from my heart. Some of those early songs went straight to the people. Sometimes you try to do something more sophisticated and in the end not even you understand what you're talking about."
Hit songs include --
Agua Dulce, Agua Sala
Lo Mejor de Tu Vida
Que No Se Rompa la Noche
To All the Girls I've Loved Before
All of You
Gozar la Vida
Baila Morena
Todo el Amor Que Te Hace Falta
Y Aunque Te Haga Calor
La Carretera
Crazy
La Carretera
Volver
Dos Corazones, Dos Historias (Dos Coraçes E Uma Historia)
Moonlight Lady
Alguien
Vuela Alto
Corazon de Papel
Esos Amores
Amor (Love)
Julio Iglesias may be available for your next special event.
For booking information, click HERE!
---
To book Julio Iglesias for your special event,
contact Richard De La Font Agency, Inc.
For faster service, this is required - click on this link: https://www.delafont.com/contactselect.htm
For serious booking requests only.
Thank you for your cooperation.