PRINTER FRIENDLY PAGE. To view this artist's HOME page, click or visit:
https://www.delafont.com/music_acts/kathy-mattea.htm
**
Booking Kathy Mattea - Country Music Artists - Country-Folk, Contemporary Country, Country-Pop - © Richard De La Font Agency, Inc. - For serious booking requests only, click here: For More Information
The year was 1989, and Kathy Mattea had just won her first of two consecutive CMA Female Vocalist of the Year awards on the strength of her first No. 1 hits: the hopeful "Goin' Gone" and the country classic "Eighteen Wheels And A Dozen Roses." The day after the ceremony and the celebration, when so many artists would have lined up a media blitz, Mattea and her husband, songwriter Jon Vezner, got on a plane for an extended musical pilgrimage to Scotland, the motherland of country music.

"I had this gut level feeling that it was really important to go – that it would somehow have big meaning later in my life," she recalls. "Sitting around playing music late at night, and talking about why we do it, with people whose musical world wasn't as big as mine was really grounding for me at a time when I was getting swept up in the insanity of newfound success."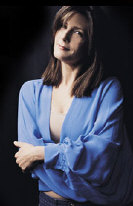 That's the Kathy Mattea fans and critics have come to appreciate over her 15+ year career: a singer with a blue-chip voice who follows her own stars, rather than letting herself get caught in the trappings of stardom. Since emerging from a folk and bluegrass background nurtured in her home state of West Virginia, she has earned the respect of music fans by guarding her independence and remaining close to her music's roots.
Kathy Mattea was born in Cross Lanes, West Virginia, in 1959. She received formal voice lessons, sang in church, and discovered guitar-based folk music at a summer camp during her high school years. She moved to Nashville in 1978 as part of a bluegrass band and worked various jobs, including a stint at the Country Music Hall of Fame, before being discovered for her vocal prowess off her songwriting demo tapes. Mercury signed her in 1983, and since then she has won five CMA Awards, two Grammys and four ACMs. She is known worldwide for her warm, personable stage shows and the caliber of her bands.
Awards include --
| | | |
| --- | --- | --- |
| Minnie Pearl Humanitarian | | 2001 |
| | Music Video of the Year | 1998 |
| | Country Album of the Year | 1998 |
| | Music Video of the Year | 1997 |
| | Best Southern Gospel, Country Gospel or Bluegrass Gospel Album | 1993 |
| | Best Female Country Vocal Performance | 1990 |
| | Female Vocalist of the Year | 1990 |
| | Song of the Year | 1990 |
| | Female Vocalist of the Year | 1989 |
| | Song of the Year | 1989 |
| | Top Female Vocalist | 1989 |
| | Single of the Year | 1988 |
| | Single of the Year | 1988 |
| | Song of the Year | 1988 |
Hit songs include --
Burnin' Old Memories
Come From The Heart
Eighteen Wheels and a Dozen Roses
Goin' Gone
She Came From Fort Worth
Love At The Five And Dime
Walking Away A Winner
Life As We Knew It
Untold Stories
You're The Power
Train Of Memories
Time Passes By
A Few Good Things Remain
The Battle Hymn of Love
Walk The Way The Wind Blows
Where've You Been
Lonesome Standard Time
Nobody's Gonna Rain On Our Parade
Whole Lotta Holes
Standing Knee Deep In A River (Dying OF Thirst)
Kathy Mattea may be available for your next special event.
For booking information, click HERE!
---
To book Kathy Mattea for your special event,
contact Richard De La Font Agency, Inc.
For faster service, do this first - click on this link: https://www.delafont.com/contactselect.htm
For serious booking requests only.
Thank you for this consideration.