Keyshia Cole is the real deal. Like many young people raised in a tough neighborhood, this songstress endured a tumultuous childhood in Oakland, California, and has fought all her life to keep her dream of a music career alive. It's been a long road for Keyshia, but it's her powerful voice that's carried her through, not to mention the diminutive singer's personal combination of sugar, spice, sass and sex appeal, along with a solid-steel spine.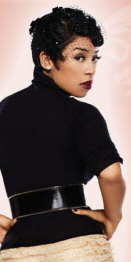 Keyshia's talent, personality, and faith have won her fans and supporters within the notoriously picky entertainment industry since she was a young girl. While still a pre-teen, she convinced then-superstar MC Hammer that he should put her on, and she even got a chance to do some recording with the rap star before she was 12 years old. She also scored sessions singing hooks with other Bay Area artists, including Messy Marv's "Nubian Queen" remix, which was a regional hit for the rapper, and with Tony! Toni! Toné!'s Dwayne Wiggins, who featured her on his soundtrack for the indie film "Me & Mrs. Jones."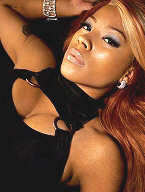 Within minutes of catching her boyfriend cheating, Keyshia Cole was in her car driving to Los Angeles in the middle of the night to start a brand-new life. It only took the determined singer a few months of making connections to snag an introduction to A&M Records President Ron Fair, who immediately signed her to her first solo recording deal. For her first album, Keyshia garnered the support of none other than reigning hip-hop star Kanye West, producer and songwriter DaRon of R&B group 112, rapper Chink Santana, whose gruff stylings have graced hits by Ashanti and The Inc., and popular producer E-Poppi. She also got a chance to collaborate with Eve for her debut single, "Never," on the "Barbershop 2" soundtrack.
The realities surrounding where she was raised and the hurdles she overcame are never far from her mind.
A self-described "hard worker", who can sometimes be "goofy" and "fun" yet says she would never kiss a guy she doesn't know for a video, Keyshia Cole is passionate about providing inspiration to young girls, and young people in general, who come from troubled backgrounds. "I want to be an example for young people, especially growing up in the 'hood, because it's already hard enough to not be focused, not to be trying, to be doing something," she says, adding that hope and faith and holding on to a dream can carry anyone far. This reflects her belief that goals can be realized, despite the circumstances.
"It's really possible," she says with a grin. And those are her thoughts - just the way it is.