PRINTER FRIENDLY PAGE. To view this artist's HOME page, click or visit: https://www.delafont.com/music_acts/kid-rock.htm **

Booking Kid Rock, Bob Ritchie, Robert Ritchie - book Metal Music Artists - Hard Rock, Heavy Metal, Rap-Metal, Rap-Rock, Alternative Metal - © Richard De La Font Agency, Inc. - For serious inquiries only, click here: For More Information

In 1998, Kid Rock unleashed his major label debut, the classic "Devil Without a Cause." The album - which includes the smash singles/videos "I Am The Bullgod," "Bawitdaba," "Cowboy" and "Only God Knows Why" - eventually went on to be Diamond Award certified by the RIAA for more than 10,000,000 sold.
2000 saw the release of "The History of Rock," a specially assembled compilation comprised of previously unreleased recordings such as the Grammy Award-nominated single, "American Bad Ass," as well as remixed and reworked tracks from Kid Rock's long-unavailable early works. The collection made its chart debut at #2 on the Billboard album chart, en route to triple platinum certification by the RIAA for sales in excess of 3,000,000.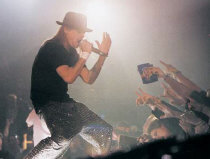 Rock's next magnum opus, the acclaimed "Cocky," was released in November 2001. Recorded in Detroit at Kid Rock's Clarkston Chophouse studio, the album includes such larger-than-life arena anthems as "Forever," "What I Learned Out On The Road," "Lonely Road of Faith" and the sensational Top Ten duet with Sheryl Crow, "Picture." The RIAA 4x-platinum certified "Cocky" remained on the "Billboard 200" album chart more than 100 weeks after its release.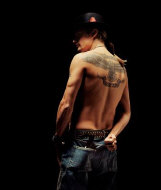 An inveterate road warrior, Kid Rock and Twisted Brown Trucker have earned a reputation as one of hardest working bands in rock 'n' roll, blowing the roofs off of theatres, arenas, and enormodomes on countless cross-country tours, not to mention treks around the globe.
Since breaking out with "Devil Without a Cause," Kid Rock has been the recipient of a wide assortment of honors, including multiple Grammy Award nominations, and taking home such trophies as a Billboard Music Video Award and "Favorite Male Pop/Rock" honors from the American Music Awards.
Kid Rock has been loud and proud in his support of the men and women of the United States Military. In January 2001, he donated proceeds from a Norfolk, Virginia, concert to the Navy Marine Corp Relief Society, an effort undertaken to aid the families of those crewmembers killed in the terrorist attack on the USS Cole. The concert came about after Rock heard that "American Bad Ass" was played over the loudspeakers of the crippled naval ship just as it pulled out of port to head home. December of that year saw Kid Rock and TBT visiting the Ramstein Air Force Base in Germany to perform alongside J-Lo and Ja Rule for a massive U.S.O. show (later broadcast on MTV as For The Troops: An MTV/U.S.O. Special).
In June 2003, Kid Rock ventured to Kuwait, Qatar, and Iraq as part of a U.S.O. tour to brighten the spirits of troops serving in Operation Iraqi Freedom. A highlight of the journey occurred as Rock arrived at a military hangar in Baghdad expecting to just sign autographs. When the thousands of troops waiting to meet him started cheering, the Motor City superstar decided to put on an impromptu concert, using instruments on stage designated for a military band.
Hit songs include --
Picture
All Summer Long
So Hott
Cowboy
Only God Knows Why
Bawitdaba
Amen
Jackson, Mississippi
Lonely Road of Faith
Forever
American Bad Ass
Cold And Empty
I Am
I Am The Bullgod
Feel Like Makin' Love
Wasting Time
Single Father
Kid Rock may be available for your next special event.
For booking information, click HERE!
---
To book Kid Rock for your special event,
contact Richard De La Font Agency, Inc.
For faster service, this is required first - click on this link: https://www.delafont.com/contactselect.htm
For serious booking requests only.
Thank you for your cooperation.