PRINTER FRIENDLY PAGE. To view this artist's HOME page, click or visit: https://www.delafont.com/music_acts/kirk-franklin.htm **

Booking Kirk Franklin - Gospel Music Artists - Contemporary Gospel, Black Gospel, Urban - © Richard De La Font Agency, Inc. - For serious booking requests only, click here: For More Information

Kirk Franklin

At the forefront of today's gospel music, Kirk Franklin, best known for his platinum success with "The Family," has broken down many musical barriers since he exploded on the international scene. In the process, he's achieved unprecedented success and become gospel's #1 renaissance man. His first album, "Kirk Franklin and the Family," was certified platinum, a gospel milestone. His critically acclaimed follow-up CD, 1996's "Whatcha Lookin' 4," sold more than 900,000 (and counting) copies. As astute in business as well as music, Franklin's Fo Yo Soul company banner has a multi-year production deal with B-Rite Records.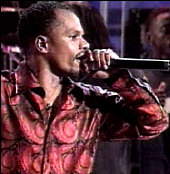 Founded in 1992 by Linda Searight, the God's Property organization centers around high moral standards with emphasis on education and achievement through artistic expression and performance. Ranging in age from 16 to 26, and under the brilliant direction of Robert Searight from its inception, the choir (often at-risk, inner-city based young people) is accompanied by an incredible five piece band. Their repertoire ranges from spirituals to praise song, to traditional and contemporary gospel. Franklin, of course, has expanded their voices and vision.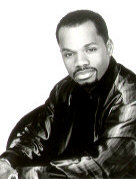 The God's Property/Kirk Franklin relationship goes way back, and beyond the recording studio, where he often works out new material with the choir. He's appeared with God's Property on The Late Show with David Letterman, while the choir itself performed with mega-pop star, Celine Dion, at the encore of the media acclaimed "Call The Man/Power of the Dream" concert in Dallas and on The 10th Annual Essence Awards with Stevie Wonder.
Mutually motivated by their shared belief in God and ability to express it through music, fellowship and faith, Kirk Franklin and God's Property are on their way to making gospel history. That was demonstrated by the almost instant success of "Stomp," a bonafide urban and gospel hit.
Furthermore, its video, featuring a special guest appearance by Cheryl 'Salt' James, simultaneously went into heavy rotation on BET and The Box. MTV also added the video, making it the first gospel video ever that the channel has played.
Kirk Franklin has, without a doubt, changed modern music more than any other artist in the last decade. He has been called the architect for a new American musical genre. This minister has incorporated contemporary hip-hop music with traditional gospel choir arrangements to reach our youth with a positive and uplifting message. The viability of his music ministry has prompted every major label to institute a Gospel Music division.
Kirk Franklin was taunted and teased as a child, but his faith and his remarkable musical talent helped him overcome the odds. "What motivates me," he says, "is the knowledge that God has redeemed me from the pain and the hurts and the sin of my past and given me a new joy I can't even explain. It's not just for show," he says, "It's the truth, and that's what I want to express."
Awards include --
Best Gospel Album ("The Nu Nation Project")
-- Soul Train Music Awards, 1999
Hit songs include --
Looking For You
Lean On Me
Declaration (This Is It!)
Imagine Me
Revolution
September
Brighter Day
Jesus
Other notable songs include --
He's Able
Whatcha Lookin' 4
Stomp
Melodies from Heaven
Silver and Gold
My Desire
I Still Believe
Call on the Lord
Nobody
Kirk Franklin may be available for your next special event.
For booking information, click HERE!
---
To book Kirk Franklin for your special event,
contact Richard De La Font Agency, Inc.
For faster service, this is required first - click on this link: https://www.delafont.com/contactselect.htm
For serious booking requests only.
Thank you for this consideration.