PRINTER FRIENDLY PAGE. To view this group's HOME page, click or visit: https://www.delafont.com/music_acts/lakeside.htm **

Booking Lakeside - book R&B Artists - Quiet Storm, Disco, Funk, Soul, R&B - © Richard De La Font Agency, Inc. - For serious booking requests only, click here: For More Information

Lakeside were likely the first band to successfully use a "theme" for each album cover which brought about a lot of notoriety in the music industry and amongst the music faithful. "I wonder what they're going to come out with next" was the question asked by many fans and the people who followed the group. Starting off with "A Shot of Love," the Robin Hood-themed debut in 1978, Lakeside scored a hit, a dance one at that, right off the bat with "All the Way Live."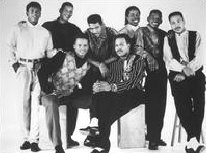 The Dayton, Ohio, based band was formed when Otis Stokes (guitar, vocals) and Thomas Shelby (lead vocals) quit the Bad Bunch to team up with Mark Wood (lead vocals, keyboards) in the Young Underground. After signing a deal in Chi-Town they changed the name to Ohio Lakeside Express, which in due course was thankfully shortened to Lakeside.
In 1972 the band hit the road hit the road for a live gig in Oklahoma City. By this time they had added Stephen Shockley (guitar), Fred Alexander (drums), Tiemeyer McCain (who shared lead vocals w/ Wood and Shelby), Marvin Craig (bass), Fred Lewis (percussion) and Norman Beavers (keyboards). They got the shaft on the OKC gig and ended in La-La Land as one of the first acts signed to Dick Griffey's SOLAR (Sound of Los Angeles Records) label. Likewise the group served as the house band for labelmates, Shalimar and Dynasty, and also ended up penning quite a few tunes for these and other groups.
This funk group secured its first hit in 1978 with "It's All The Way Live."
In 1979, they released "Rough Riders" with a Wild Bunch theme and the funky dance track, "If You Like Our Music (Get On Up and Move)." 1980 gave them their biggest glory with "Fantastic Voyage" with its pirates motif. The single (R&B #1) by the same name provided the dance tune many were waiting for in the post-disco era. "Fantastic Voyage" was later sampled by Coolio on his smash hit by the same name. That album also featured "Your Love Is On the One" and the ballad "Say Yes." 1981 brought the Aladdin-themed "Your Wish Is My Command." The title track was especially popular among fans.
Singles include "I Want To Hold Your Hand" (1982) and "Outrageous" (1984), both of which reached the US R&B Top 10.
Hit songs include --
Fantastic Voyage
It's All The Way Live
I Want To Hold Your Hand
Raid
Your Love Is On The One
Real Love
Something About That Woman
Pull My Strings
Bullseye
Make My Day
Turn The Music Up
From 9:00 Until
We Want You (On The Floor)
Money
Given In To Love
Lakeside may be available for your next special event.
For booking information, click HERE!
---
To book Lakeside for your special event,
contact Richard De La Font Agency, Inc.
For faster service, do this first - click on this link: https://www.delafont.com/contactselect.htm