PRINTER FRIENDLY PAGE. To view this artist's HOME page, click or visit: https://www.delafont.com/music_acts/Lee-Ann-Womack.htm **
Booking Lee Ann Womack - Country Music Artists - Neo-Traditionalist Country, Contemporary Country, Adult Contemporary - © Richard De La Font Agency, Inc. - For serious booking requests only, click here: For More Information
Lee Ann Womack is sweet aid and comfort to all those who fear for the soul of country music. Since the release of her first album, she has been the center of both fan and industry excitement.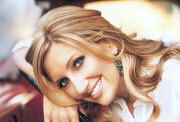 She has won the American Music Award for Favorite New Country Artist, the Academy of Country Music trophy of Top New Female Vocalist and the TNN/Music City News prize for Female Star of Tomorrow. She earned nominations for the Country Music Association's Horizon award and Female Vocalist of the Year award. The Female Vocalist nomination marks the first time in a decade that a brand new artist has been so honored.
As befits a country music standard-bearer, Lee Ann Womack is modest about her cascade of achievements. "Any and all of the award nominations have been wonderful," she says. "If there's any down side to all of this it would probably be that I don't know if I've had time to prepare myself for being a Female Vocalist Of The Year nominee. I don't just mean the singing part of it. These other girls (Faith Hill, Patty Loveless, Martina McBride and Trisha Yearwood) have been performing for a while. And they have the poise and confidence that maybe I don't have yet. I'm thrilled to be in there with them, but sometimes I feel like an ugly duckling."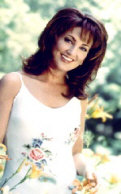 In addition to accepting awards, Lee Ann Womack has also been busy touring. She has worked with the likes of George Strait, Randy Travis and Alan Jackson. "One of my main thrills," she recalls, "was opening up Billboard magazine and seeing an article in which George Strait talked about me."
One reason she sings country music so well is that she relates to it so instinctively. She understands that the most memorable country songs are woven from melancholy and are meant to give voice to those who feel emotionally mangled by life.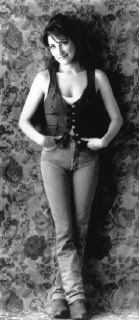 "I connect better with a sad song," confesses the Texas-born singer. "I always have – even as a little girl. I never went through any hard times as a child. My parents provided a very loving atmosphere, and I've never to this day heard them argue. My dad never left us or went out and got drunk and came home and messed things up. I never had any of that kind of heartbreak. But he still loved those songs. I would go into the radio station with him (where he was a DJ) and listen to all those heartbreakers, and I just loved them."
Lee Ann Womack sings with heart-piercing purity and a rare appreciation of country music's deepest wellsprings. "I go for songs that really knock me out emotionally," she muses. "I want my songs to move people."
Awards include --
CMA Vocalist of the Year 2001
CMA Song of the Year 2000
CMA Single of the Year 2000
American Music Awards Favorite New Artist 1998
TNN/Music City News Star of Tomorrow -- Female 1998
Academy of Country Music Top New Female Vocalist 1997
Hits songs include --
I Hope You Dance
I'll Thin of a Reason Later
You've Got to Talk to Me
A Little Past Little Rock
The Fool
Why They Call It Falling
Something Worth Leaving Behind
He Oughta Know That By Now
Does My Ring Burn Your Fingers
Never Again, Again
The Wrong Girl
Buckaroo
Twenty Years And Two Husbands Ago
Lee Ann Womack may be available for your next special event.
For booking information, click HERE!
---
To book Lee Ann Womack for your special event,
contact Richard De La Font Agency, Inc.
For faster service, this is required first - click on this link: https://www.delafont.com/contactselect.htm