PRINTER FRIENDLY PAGE. To view this group's HOME page, click or visit: https://www.delafont.com/music_acts/lifehouse.htm **

Booking Lifehouse - Rock Music Artists - Adult Alternative Pop/Rock, Post-Grunge, Alternative Pop/Rock, Alternative/Indie Rock - © Richard De La Font Agency, Inc. - For serious inquiries only, click here: For More Information

Lifehouse is the brainchild of singer-songwriter-guitarist Jason Wade, who started the band (originally called BLYSS) in 1996 with bassist Sergio Andrade. Lifehouse is based in Los Angeles, where Wade settled after stints in Portland and Seattle.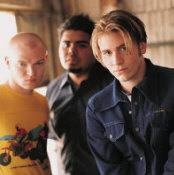 Jason Wade – whose mother sang and played guitar with a folk-pop trio in the '70s – got his first guitar and began writing songs at 12, after his parents split up. Among his influences are Pearl Jam, Nirvana, Paul Simon and The Beatles. The discipline he brings to his craft is also reflected in his extra-musical activities: Wade is a black belt in the martial art of Du Ye Chi Tao.
Three years of steady gigging around Los Angeles have built Lifehouse an enthusiastic fan base. The band's sonic character has been compared to that of Live and matchbox twenty. They separate themselves from the pack, however, with Jason's sonorous vocals and a finely calibrated sense of dynamics. The players move fluidly from solid electric rock to more pensive, acoustic sounds. Lifehouse's songs resonate for listeners in either setting, a point Wade has made with numerous solo acoustic performances.
Many of Wade's lyrics address issues of self-discovery and spiritual seeking, areas of exploration that have further bonded him to his fans. He views the name of the band as a metaphor for his music.
This once obscure Los Angles band scored a #1 hit on Billboard's Modern Rock Tracks chart, with first radio cut "Hanging By A Moment," only 10 weeks after the release of their debut album, the now-double-platinum "No Name Face." The disc was produced by Ron Aniello (Jude, Kendall Payne, Shannon McNally) and recorded in Los Angeles at Ocean Way and Panembriello studios, Aniello's own facility. It was mixed by Brendan O'Brien (U2, Rage Against The Machine, Stone Temple Pilots, Pearl Jam).
Hit songs include --
Halfway Gone
First Time
Hanging By a Moment
You And Me
Whatever It Takes
Spin
Breathing
Sick Cycle Carousel
Blind
Take Me Away
Broken
It Is What It Is
Storm
Falling In
Lifehouse may be available for your next special event.
For booking information, click HERE!
---
To book Lifehouse for your special event,
contact Richard De La Font Agency, Inc.
For faster service, this is required - click on this link: https://www.delafont.com/contactselect.htm
For serious booking requests only.
Thank you for your cooperation.