PRINTER FRIENDLY PAGE. To view this artist's HOME page, click or visit: https://www.delafont.com/music_acts/lionel-richie.htm **

Booking Lionel Richie, R&B artist - book R&B Artists - Urban, Adult Contemporary, Soft Rock, Quiet Storm - © Richard De La Font Agency, Inc. - For serious inquiries only, click here: For More Information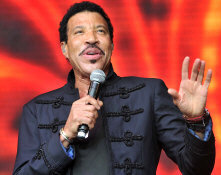 You can comb the incredible statistics surrounding the amazing career of Lionel Richie and still miss something. You can factor in the nearly 60 million albums sold, the five Grammy's, twenty two top ten hits, an Oscar for best song, a golden globe, a treasure chest of People's choice and American Music Awards too numerous to count, and a discography of albums and singles that navigate an emotional landscape that only few writer/performers have ever truly captured – and still not see what may be the key to this incredible musical legacy.
The real story behind Lionel Richie is quintessentially an American one.
Raised in Tuskegee, Alabama, he has built a life out of doing precisely what people presumed he could not. "Growing up if you told me to go left, I would go right," laughs Lionel. "If you brought me into a room and said there's one door that I absolutely cannot open, that's the door I'm going to open." And just like the legends he admires, from Sinatra to Santana, Lionel Richie knows what it's like to hear a door close, as well. He has survived the rollercoaster ride of the music business by refusing to let others define him. The Lionel Richie story has always been about making that leap of faith with no net.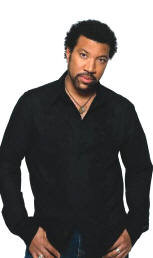 "Making a new record is always a mystery. It's an affirmation into the unknown. I'll never forget when I was with the Commodores," he reminisces. "We were straight ahead R&B, and the producers and record company expected that from us, and that was that. In the middle of the disco craze I sat down and wrote a song called 'Three Times A Lady,' and they said I was out of my mind. I'll never forget a radio programmer looked me right in the eye and said 'you are either the craziest man who ever lived, or the bravest, for releasing this song now.' I have never written with a specific sound in mind. When the song comes I just try and be ready."
Lionel Richie has achieved his amazing run by relating simply and honestly to the people who now celebrate his records as quintessential moments in their lives.
"Marvin Gaye once told me 'you can find out where it all comes from if you want, but don't ever go looking for it.' I've never forgotten that. People have asked me my whole career 'where do the songs originate?' There is no formula. But I readily admit there is nothing quite has humbling as a microphone hanging in the middle of a room, while you are sitting there in front of a blank piece of paper trying to get that next song done."
Lionel's rapport with his fans is legendary. Not only do they sing along at all his concerts all over the world, but the 'first name basis' he's earned in their hearts has been protocol since his days with the Commodores. When he left the group in 1981 to pursue a solo career, his fans rolled with him. They watched Lionel become one of the most successful artists of the '80's, earning a string of 13 top ten hits between 1981 and 1987, including five number 1 singles "Endless Love," "Truly," "All Night Long (All Night)," "Hello," and "Say You (Say Me)."
His 1982 self-titled album established a run of platinum plus discs throughout the 80's. "Can't Slow Down" (released in 1983) sold 20 million units worldwide and 1986's "Dancing On The Ceiling" became a pop and R&B classic (and included the Oscar nominated song "Say You Say Me"). Lionel Richie also, somehow found time to co-write with Michael Jackson what eventually would become pop's most famous anthem, the Live-Aid tune "We Are The World."
With all the hoopla surrounding his incredible achievements, Lionel Richie began tempering his work schedule in the '90's, taking a self-imposed respite from the rigors of touring and recording. A recurring throat problem, compounded by an arduous divorce also caused him to re-examine his priorities. "There was a lot of growth, a lot of introspection during that time," he recalls painfully. 1996 saw him emerge with the critically acclaimed "Louder Than Words," which Lionel says "revealed another level of maturity in my work because of what I went through."
He followed that up with 1998's "Time." Inspired by a new family, Lionel began work on the disc soon after "Louder Than Words." "I didn't tour after 'Louder Than Words,' which was unusual for me. That album cleared the air a lot. It got rid of a lot of baggage. 'Time' was a healing record."
Richie earned rave reviews and won over a legion of new fans. "Being back on the road is a bit like riding a bike when you've been away a while. The first time you step on stage may feel a bit clumsy, but after the third song it feels as if you've never been away. I was completely amazed that after time out, so many people knew every word to the songs. I am hoping that I'll be able to add a few more classic tracks for the years to come."
Hit songs include --
I Call It Love
All Night Long (All Night)
Ballerina Girl
Do It To Me
Endless Love
Hello
Love Will Conquer All
My Love
Penny Lover
Say You, Say Me
Stuck On You
Truly
You Are
Dancing On The Ceiling
Don't Wanna Lose You
Se La
All Around The World
Just For You
Running With The Night
My Destiny
Lionel Richie may be available for your next special event.
For booking information, click HERE!
---
To book Lionel Richie for your special event,
contact Richard De La Font Agency, Inc.
For faster service, this is required first - click on this link: https://www.delafont.com/contactselect.htm
For serious booking requests only.
Thank you for your cooperation.