PRINTER FRIENDLY PAGE. To view this artist's HOME page, click or visit: https://www.delafont.com/music_acts/lorrie-morgan.htm **
Booking Lorrie Morgan, country music artist - book Country Music Artists - Neo-Traditionalist Country, Contemporary Country - © Richard De La Font Agency, Inc. - For serious booking requests only, click here: For More Information
Grand Ole Opry Member
-- since 1984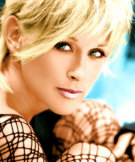 Lorrie Morgan's authenticity as a country artist is irrefutable. She was literally a child of the Grand Ole Opry, tagging along as her father, the late George Morgan, performed every weekend from the hallowed wooden stage. Lorrie made her debut appearance at 13, knock-kneed and shaking as her dad watched her charm the audience with the developing sultry alto which has become one of the most distinctive and moving voices in the country genre.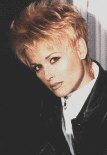 If pedigree is not proof enough, the life of Lorrie Morgan itself is testament to the themes that make country music rich with the soaring highs and crushing lows of real life. She began her career as a chorus performer in stage shows at Opryland amusement park while she sang demos for Nashville songwriters. Because of her dedication to the Grand Ole Opry, Lorrie Morgan was invited to become a member in 1984, long before she released her platinum-selling debut album "Leave the Light On" in 1989. Her next two albums "Something in Red" (1991) and "Watch Me" (1992) were also certified platinum and sent Morgan on a dizzying rise to stardom.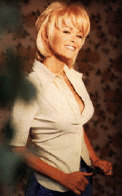 Lorrie Morgan quickly became one of country music's most popular and successful female artists charting more than a dozen top ten hits including "Five Minutes," "What Part of No" and "I Didn't Know My Own Strength" which all landed at number one. Recognized as a creative force in music videos, Lorrie charted eight number one videos at CMT. Praise from her peers and fans followed, and Morgan earned nine industry awards including four wins as Female Vocalist of the Year (1994, 1996, 1997, 1998). She made countless appearances on major network television shows including "The Late Show with David Letterman," "The Tonight Show with Jay Leno," and "Good Morning America," among others.
But it has been life's events off-stage that have kept her grounded. Lorrie Morgan has said that, in some ways, her life is like a country song as she has experienced so many different roles including daughter, single mother, widow, divorcee, and above all, survivor.
Awards include --
1998 TNN/Music City News - Female Artist of the Year
1997 TNN/Music City News - Female Artist of the Year
1997 TNN/Music City News - Vocal Collaboration of the Year
1996 TNN/Music City News - Female Artist of the Year
1994 TNN/Music City News - Female Artist of the Year
1991 TNN/Music City News - Vocal Collaboration of the Year
1990 CMA - Vocal Event of the Year
Hit songs include --
Five Minutes
I Didn't Know My Own Strength
What Part of No
Out of Your Shoes
Watch Me
Go Away
We Both Walk
Back in Your Arms Again
Except for Monday
Good as I Was to You
He Talks to Me
Half Enough
Dear Me
A Picture of Me (Without You)
I Guess You Had to Be There
One of Those Nights Tonight
Lorrie Morgan may be available for your next special event.
For booking information, click HERE!
---
To book Lorrie Morgan for your special event,
contact Richard De La Font Agency, Inc.
For faster service, this is required - click on this link: https://www.delafont.com/contactselect.htm
For serious booking requests only.
Thank you for this consideration.