PRINTER FRIENDLY PAGE. To view this artist's HOME page, click or visit: https://www.delafont.com/music_acts/Marilyn-Michaels.htm **
Booking Marilyn Michaels - Singing Impressionist - © Richard De La Font Agency, Inc. - For serious booking requests only, click here: For more information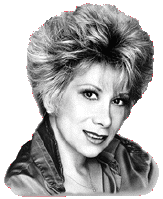 Marilyn Michaels
---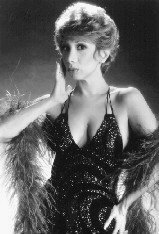 Winner of an Outer Critic Circle Award and Drama League Award for her debut in Catskills On Broadway, Marilyn Michaels is America's premier woman of a thousand faces and voices. She is the gal who does all the famous impressions of Barbra, Bette, Lily, Madonna and on and on.
She toured for one year in the National Company of "Funny Girl" as Fanny Brice, breaking house records throughout the country. She is known to audiences through her countless appearances on television talk shows such as "The Tonight Show," "Regis and Kathie Lee," "Lifestyles with Robin Leach," "Sally Jesse Raphael" and "The Howard Stern Show."
Marilyn has brought her gift for satire and her powerful singing style to such diverse venues as Las Vegas and Atlantic City's major show rooms, television's Comedy Central, and the host of Arts and Entertainment's "Girls Night Out" series and CNBC's "Talk Live." She starred in her own revue at Harrah's in Atlantic City, called "Broadway Ballyhoo." It was a tribute to all the great Broadway ladies. She also does a Hollywood version of the show. However, she is best known for her famous ladies.
Her character portrayals have been seen on ABC's "One Life To Live," as well as Spelling/Goldberg's "Love Boat" and "Fantasy Island." Marilyn's rendition of Donna Summer and Barbra Streisand singing via split screen on an NBC special has become a cult favorite.





One of her audio books, "Frankly Scarlett, I Do Give A Damn," was released nationally by Harper Collins. In it she portrays 30 characters, in what is referred to as "classic love stories retold...politically correct." Her Mothers' Day concert at New York's Sylvia and Danny Kaye Playhouse, with a special song written for the event by Marvin Hamlisch, was an instant sell out.
Marilyn's CDs, "Voices" and "An Oysher Heritage," may be available in record shops.
Marilyn Michaels may be available for your next special event.
For booking information, click HERE!
---
To book Marilyn Michaels for your special event,
contact Richard De La Font Agency, Inc.
For faster service, do this first - click on this link: https://www.delafont.com/contactselect.htm