PRINTER FRIENDLY PAGE. To view this artist's HOME page, click or visit: https://www.delafont.com/music_acts/Marty-Stuart.htm **
Booking Marty Stuart - Country Music Artists - Traditional Bluegrass, Country-Rock, Contemporary Country, New Traditionalist - © Richard De La Font Agency, Inc. - For serious booking requests only, click here: For More Information
Grand Ole Opry Member
-- since 1992
Marty Stuart. Singer. Songwriter. Poet. Theatrical composer. Musician. Photographer. Collector. Actor. Producer. Historian. Raconteur. Executive. Entertainer. Nashville's International Ambassador of Tourism. Author. Bluegrass aficionado. Commercial pitchman. TV host. Comic book hero.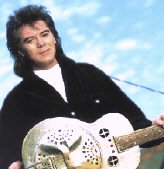 With an ever increasing list of accomplishments and achievements, the high-spirited Mississippi native defies categorization. Even Marty himself can't pinpoint his "role" – and that's the way he likes it.
"I really don't know where I fit in the music business," he says. "I just love to work. There are so many things I enjoy doing...The bottom line for me is to make good music and be the best that I can. I don't worry about where my place is. Actually, for most of my life I've not fit in and that's fine by me."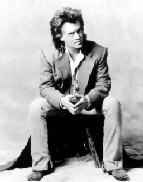 Everything about Marty Stuart – from the hand-tailored stage-wear to his ever-present mandolin – is instinctive, drawn from his vast palette of experiences. "I've always been influenced by what I was into at the moment," he says. "I've always enjoyed artists, whether they are artists who paint or artists who make music. I love people who are open and people who are evolving at all times."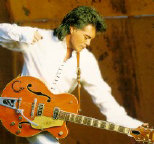 Marty hasn't assembled what could be the largest collection of country music memorabilia in the world because it's trendy. He's done it because he has a genuine interest in preserving the rich heritage of the music he loves so much. He isn't the president of the Country Music Foundation because it looks good on a resume. He does it because he wants to help further the Foundation's role in ensuring that generations to come have a Hall of Fame to visit.
And just when you think Marty's plate is surely overflowing, you recall that he's still entertaining country fans at concerts nationwide. His high-energy shows are fun-filled romps that make audiences laugh, clap their hands, stomp their feet, sing along and beg for more.

In an age of specialization, Marty Stuart continues to "specialize" in diversity. If there's anyone today who can rival Marty for the title "Country Music's Renaissance Man," they've yet to make their presence known.
Awards include --
Grammy Best Country Collaboration With Vocals 1998
TNN/Music City News Vocal Collaboration of the Year 1993
CMA Vocal Event of the Year 1992
Grammy Best Country Collaboration With Vocals 1992
Hit songs include --
Tempted
Burn Me Down
This One's Gonna Hurt You (For a Long, Long Time)
Hillbilly Rock
Little Things
Till I Found You
Now That's Country
Arlene
Western Girls
Honky Tonkin's What I Do Best
High On a Mountain Top
Kiss Me, I'm Gone
You Can't Stop Love
Cry Cry Cry
Hey Baby
Marty Stuart may be available for your next special event.
For booking information, click HERE!
---
To book Marty Stuart for your special event,
contact Richard De La Font Agency, Inc.
For faster service, this is required first - click on this link: https://www.delafont.com/contactselect.htm