PRINTER FRIENDLY PAGE. To view this artist's HOME page, click or visit: https://www.delafont.com/music_acts/maryj-blige.htm **

Booking Mary J. Blige - R&B Artists - Contemporary R&B, Club/Dance - © Richard De La Font Agency, Inc. - For serious inquiries only, click here: For More Information

"Queen of Hip Hop Soul"
Over the years and through the tears, Mary J. Blige has been more than just the finest and fullest practitioner of modern R&B. She is the woman who voices what we can only feel. Through her music, Mary acts as both sister confessor and conduit to real emotions and hard fought hurts.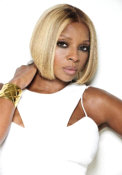 As she has done in the past, Mary has been looking into the mirror of her soul and putting into measured words the truths she has seen in her reflection. "I have learned something," Mary offers, her tone a wondrous blend of amazement and awareness. "I've learned that we've got to take responsibility for everything that comes out of our mouths.. so.. my focus is on claiming peace and prosperity, trust, patience and love."
"A lot of people donít know that I like to party and that I like to hang out, not the way I used to," Mary laughs, alluding to her wilder youth, "but I do like to get my dance on."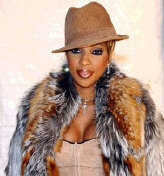 Mary's charity work is as much a part of her healing process and her journey as the music she creates. She is seen in anti-drug public service announcements, has worked with various education groups and has helped raise monies for people with AIDS.
Mary received the Rolling Stone Do Something Award for her humanitarian work and she was recently honored with a lifetime service award by 100 Black Men. She also received Rock The Vote's highest honor, the Patrick Lippert Award. Mary continues as the spokeswoman for MAC's Viva Glam III, with all proceeds from the lipstick earmarked to AIDS education and research and her tireless work for People with Aids included an appearance at the United Nation's AIDS Awareness Day fundraiser.
Along with her music and her altruistic outreach, Mary J. Blige is embarking upon an acting career. She did a guest spot on Lifetime's series "Strong Medicine." "I had fun doing that," Mary smiles.
Few would have imagined back in 1992, with the explosive debut of "What's the 411?," that this young girl from the projects of Yonkers, NY, in less than ten years time would become both a multi-faceted talent and a template for contemporary R&B, and that she would release one live album, four studio albums, see them go to the top of the charts, earn numerous industry awards and be able to bring her idiosyncratic brand of soul to audiences worldwide and cut across race and genre boundaries in the process.
On TV, on radio, on CD, in the clubs, the streets, and the bedroom, the honest and humane songs of Mary J. Blige have blossomed into modern classics, and she, in return, reigns as the undisputed Queen of Hip Hop Soul. She was crowned that back in 1992 and throughout the course of her career, from the brilliant "My Life" through the powerful "Share My World," to the triumphant "Mary" to "No More Drama"'s blend of prayer and partying, Mary has reclaimed her rights to that crown again and again.
Hit songs include --
Be Without You
Family Affair
Just Fine
Love Is All We Need
Not Gon' Cry
Real Love
You Bring Me Joy
You Remind Me
Your Child
Enough Cryin'
Everything
I Can Love You
Take Me As I Am
Sweet Thing
Love No Limit
Reminisce
All That I Can Say
Be Happy
Rainy Dayz
Deep Inside
Mary J. Blige may be available for your next special event.
For booking information, click HERE!
---
To book Mary J. Blige for your special event,
contact Richard De La Font Agency, Inc.
For faster service, this is required first -
click on this link: https://www.delafont.com/contactselect.htm
For serious booking requests only.
Thank you for your cooperation.