PRINTER FRIENDLY PAGE. To view this artist's HOME page, click or visit: https://www.delafont.com/music_acts/melissa-etheridge.htm **

Booking Melissa Etheridge - Rock Music Artists - Heartland Rock, Adult Alternative Pop/Rock, Contemporary Singer/Songwriter - © Richard De La Font Agency, Inc. - For serious inquiries only, click here: For More Information

The success of Melissa Etheridge is spurred largely by the passion and raw emotion of her live performances. Tirelessly touring the world over (by the end of 1996, she played more than 130 shows in Europe, Canada, New Zealand, Australia and the United States), Melissa continues to capture larger audiences with the honesty and directness of her music. "I think that people like me best when I just peel back the layers and speak about what's there."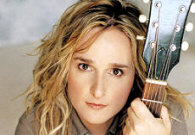 Since moving to Los Angeles in the mid 80s, where Melissa was seen and subsequently signed by Chris Blackwell of Island Records, her talents have indeed been no secret. Her 1988 debut album hit the platinum mark. Its follow-up, "Brave And Crazy," likewise went platinum and "Never Enough" of 1992 bore "Ain't It Heavy," the track which earned the singer a GRAMMY for Best Female Rock Performance.
In 1990, Melissa Etheridge was given a Juno award, the Canadian equivalent of a Grammy, for International Entertainer of the Year. Still, it was her fourth album - 1993's quintuple platinum, "Yes I Am," that cemented both Etheridge's celebrity and her status as one of America's premier performers. It boasted Top 10 hits; "I'm The Only One," "Come To My Window" and "If I Wanted To," which between them earned two Grammy nominations as well as earned her the prestigious Songwriter of the Year Award from ASCAP. "Come To My Window" joined "Ain't It Heavy" as Melissa's second Grammy Award for the Best Female Rock Performance category.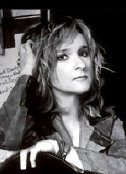 Melissa Etheridge's numerous television appearances have included an "MTV Unplugged" where Bruce Springsteen joined her in a duet, and the premiere episode of VH1's "Duets," during which she performed with Joan Osborne, Paul Cole, Sophie B. Hawkins and Jewel. In the film world, Melissa contributed a song to the hit soundtrack for the Whoopi Goldberg movie, "Boys on the Side."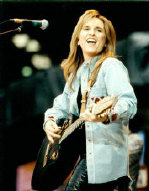 The Melissa Etheridge World Tour, in support of "Your Little Secret," offered people a chance to share in what millions of us already know - that few musicians are able to share their artistry, talent and raw energy in the way Melissa does.
The L.A.-based singer/songwriter has sold more than 25 million albums worldwide and is best known for international radio hits like "Bring Me Some Water," "I'm The Only One," "I Want to Come Over" and "Come To My Window."
Hit songs include --
I Want to Come Over
I'm the Only One
Come to My Window
Your Little Secret
Similar Features
Angels Would Fall
Breathe
No Souvenirs
Nowhere To Go
Ain't It Heavy
Bring Me Some Water
I Run For Life
If I Wanted To
Let Me Go
Like The Way I Do
Enough of Me
I Want To Be In Love
Chrome Plated Heart
Melissa Etheridge may be available for your next special event.
For booking information, click HERE!
---
To book Melissa Etheridge for your special event,
contact Richard De La Font Agency, Inc.
For faster service, this is required first - click on this link: https://www.delafont.com/contactselect.htm
For serious booking requests only.
Thank you for your cooperation.