PRINTER FRIENDLY PAGE. To view this group's HOME page, click or visit: https://www.delafont.com/music_acts/nine-inch-nails.htm **

Booking Nine Inch Nails, Trent Reznor - book Alternative Rock Music Artists - Industrial, Alternative Pop/Rock, Alternative Metal, Industrial Metal - © Richard De La Font Agency, Inc. - For serious booking requests only, click here: For More Information

It isn't really accurate to call Nine Inch Nails a group. The only official member is singer/producer/multi-instrumentalist Trent Reznor, who always remained solely responsible for NIN's musical direction. He was supported in concert by a regular backing band.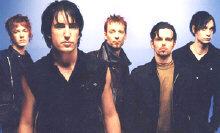 "Pretty Hate Machine" gave a comatose rock scene some much-needed electro-shock therapy and Nine Inch Nails' imprint on the genre remains unmatchable. By popularizing electronic music, Nine Inch Nails auteur Trent Reznor rewired the mainstream, inspiring Time magazine to name him "One of the Most Influential People in America," and SPIN to praise him as "The Most Vital Artist in Music Today."

Trent Reznor manipulates everything from ripples of feedback to vocal harmonies in order to serve mood and atmosphere. The result is somewhat cinematic, creating aural movies that evoke images ranging from black and bleak.



Trent Reznor started his own label (nothing records), stole the show at both Lollapalooza and Woodstock '94, produced/exec-produced three CDs for Marilyn Manson and soundtracks for David Lynch ("Lost Highway") and Oliver Stone ("Natural Born Killers"), released a slew of singles and a home video (Closure), and created music for the CD-ROM game, "Quake."
Meanwhile, "Pretty Hate Machine" has gone triple-platinum, topped SoundScan's pop catalog chart, and was named one of the "200 Albums Essential To Any Rock Collection" (Rolling Stone). The Grammy-winning "Broken" went platinum as well, while "The Downward Spiral" actually topped them both, debuting at #2 on SoundScan's Top 200, and selling more than 5 million copies worldwide. The latter was also named one of Rolling Stone's "Essential Recordings of the '90's" and one of Spin's "Greatest Albums of the '90's."

"As a fan, I want to listen to an album, not just singles," says Reznor. "I want something that I can sink my teeth into, something that I can listen to a million times, trying to get more out of it with each spin."
Hit songs include --
Every Day Is Exactly The Same
Only
Survivalism
The Day The World Went Away
The Hand That Feeds
The Perfect Drug
Closer
March of the Pigs
Capital G
Discipline
Hurt
Sin
Into The Void
We're in This Together
Happiness in Slavery
Down In It
Head Like a Hole
Deep
Piggy
Wish
Nine Inch Nails may be available for your next special event.
For booking information, click HERE!
---
To book Nine Inch Nails for your special event,
contact Richard De La Font Agency, Inc.
For faster service, this is required first - click on this link: https://www.delafont.com/contactselect.htm
For serious booking requests only.
Thank you for this consideration.