PRINTER FRIENDLY PAGE. To view this group's HOME page, click or visit: https://www.delafont.com/music_acts/puddle-of-mudd.htm **
Booking Puddle of Mudd - book Alternative Rock Music Artists - Alternative Metal, Post-Grunge - © Richard De La Font Agency, Inc. - For serious inquiries only, click here: For More Information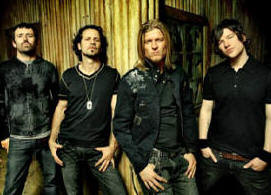 Too mainstream to be labeled new-metal and too modern-sounding to be allied with grunge, Kansas City, USA-based Puddle Of Mudd share elements of both genres and have gained a measure of success as a result.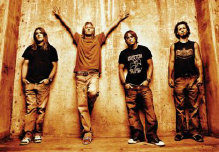 The original line-up, formed in 1993 around Wes Scantlin, named themselves after a rehearsal room next to a river, which became a swamp overnight after a flood.
Puddle Of Mudd struck lucky when Scantlin went to a concert on KoRn's Family Values tour and passed his band's demo tape to a security guard during Limp Bizkit's set, requesting that his tape be passed to the band's singer Fred Durst. The rapper liked what he heard and contacted Scantlin who had, however, just lost all his band-members, his outfit having decided to part ways in the interim. Even the phone call from Durst failed to persuade the musicians to re-form, but Durst flew Scantlin over to Los Angeles, a city which he knew was bursting at the seams with budding musicians.
Recruiting Paul Phillips (guitar), Douglas Ardito (bass), and Greg Upchurch (drums; some early sessions were handled by A Perfect Circle drummer Josh Freese), Scantlin and Durst negotiated a contract with the Limp Bizkit frontman's own Flawless label and commenced recording sessions for an album. The result, 2001's "Come Clean," replicated the success of one of Durst's other discoveries, Staind, selling more than 100,000 copies in a few weeks. A performance by Scantlin, Durst and Jimmy Page at the MTV Europe Awards in 2001 saw the Puddle Of Mudd profile rise still higher.
Hit songs include ---
Away From Me
Blurry
Drift & Die
Psycho
She Hates Me
Famous
Control
Heel Over Head
Spin You Around
Livin' On Borrowed Time
We Don't Have To Look Back Now
Other notable songs include ---
Out of My Head
Basement
Never Change
Bring Me Down
Said
Nobody Told Me
Puddle of Mudd may be available for your next special event.
For booking information, click HERE!
---
To book Puddle of Mudd for your special event,
contact Richard De La Font Agency, Inc.
For faster service, this is required first - click on this link: https://www.delafont.com/contactselect.htm
For serious booking requests only.
Thank you for your cooperation.