PRINTER FRIENDLY PAGE. To view this artist's HOME page, click or visit: https://www.delafont.com/music_acts/rebecca-stjames.htm **
Booking Rebecca St. James - Christian Music Artists - CCM - © Richard De La Font Agency, Inc. - For serious booking requests only, click here: For More Information
One of the qualities that makes Rebecca St. James unique is the perspective she brings to her work. Rebecca speaks to her own generation. With a wisdom beyond her years and a keen sense of understanding of the issues that young adults face today, Rebecca St. James is committed to encouraging and challenging her generation to live a life focused on God.

Living such a life hands-on is the heart of Rebecca St. James. Her message is bold. Her message is simple. "Live radically for God. Read the Bible. Pray. Stand up for what you believe in and make a difference in your world." These words have clearly caught on for thousands of teens and young people, as evidenced through numerous sell-out concert dates and escalating record sales around the world.
Born in Sydney, Australia, Rebecca got her first taste of Christian music early on from her dad, who was a Christian concert promoter. She performed by invitation with Carman on his Australian tour when she was only 13. After her family moved to the U.S., she began recording at age 16 with ForeFront Records. Her first album, a self-titled pop release, earned Rebecca a Gospel Music Association's Dove Award nomination for New Artist of the Year.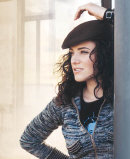 Her second album, simply titled "God," thrust Rebecca full-force to the top of Christian alternative-pop (having currently sold more than 350,000 copies), earned her a Grammy Award nomination, two consecutive Dove Award nominations for Female Vocalist of the Year, and a string of radio and video hits. Readers of Campus Life, CCM, and Release magazines named her Favorite Female Recording Artist in their respective polls.
In 1997, Rebecca released "Christmas" and her second best-selling devotional book, "You're The Voice: 40 More Days With God," a follow-up to the successful "40 Days With God."
Today, Rebecca St. James stays true to the elements of her inspiration. The oldest of seven children, she continues to lean on her family for support, taking them along with her on close to 200 concert dates per year, where her father acts as manager and her five brothers respectively manage the stage, lights, back-up vocals, merchandising, and Compassion International charity booth. This love and reliance on family ties is not lost in Rebecca's message to audiences. "We've all got to work on our family relationships, especially parents to teens and teens to parents," she says. "If young people really work at finding love and acceptance in the home and in their relationship with God, then they won't be looking elsewhere."
Another strong stance and ongoing admonition Rebecca gives from the stage deals with her own commitment to remain a virgin until marriage. "A lot of teens thank me for talking about this issue because they felt like they were alone in their decision to remain pure. And those who may have already made a mistake have to know that they can be made new again through God's grace. People have told me this message really gives hope."
Awards include --
Most Influential Woman in Christian Music – Crosswalk
Most Performed AC Top 40 Hit, "Yes, I Believe In God" – BMI Awards
Most Performed CHR Top 40 Hit, "Don't Worry" – BMI Awards
Favorite Female Artist – Campus Life Readers Award
GRAMMY – Best Rock Gospel Album 1999, "Pray"
Hit songs include --
I Thank You
Alive
God of Wonders
Let My Words Be Few
The Power of Your Love
Hark The Herald Angels Sing
Other notable songs include --
Omega
Reborn
All Around Me
Pray
Come Quickly Lord
God
ABBA (Father)
Your Love Broke Through
Jesus Loves the Little Children
Happy Christmas (War Is Over)
Rebecca St. James may be available for your next special event.
For booking information, click HERE!
---
To book Rebecca St. James for your special event,
contact Richard De La Font Agency, Inc.
For faster service, this is required first - click on this link: https://www.delafont.com/contactselect.htm
For serious booking requests only.
Thank you for this consideration.