PRINTER FRIENDLY PAGE. To view this artist's HOME page, click or visit: https://www.delafont.com/music_acts/ricky-martin.htm **

Booking Ricky Martin - Ricky Martin Rodriguez - Latin Music Artists - Tropical, Club/Dance, Salsa, Latin Pop - © Richard De La Font Agency, Inc. - For serious booking requests only, click here: For More Information

In a career that spans nearly two decades and includes more than 55 million albums sold, Ricky Martin has earned his place in entertainment history - by forever changing the way the world sees Latin music.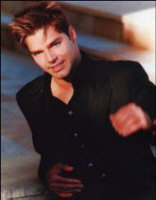 Martin's Spanish language release (2003), Almas del Silencio debuted at #1 on the Billboard Top Latin Albums chart and was the highest chart debut on the Billboard Top 200 (#12) of all Spanish-language albums in the SoundScan era. Almas del Silencio has been released in 38 non-Hispanic countries and has generated three consecutive #1 singles domestically and internationally.
Almas del Silencio is one in a series of record-breaking recordings for Ricky Martin. With his "Livin' La Vida Loca" single, Martin became the first Latin male solo artist of the SoundScan era to hit #1 on the Hot 100. He won the "Best Latin Pop Performance" Grammy for Vuelve, a Spanish language album, at the 41st Annual Grammy Awards ceremony in 1999. He was named "World's Bestselling Pop Male Artist" and "World's Bestselling Latin Artist" at the 12th Annual World Music Awards. At the 10th Annual Billboard Music Awards, he was named "Male Artist of the Year" and "Male Hot 100 Singles Artist of the Year." He won an American Music Award in the "Favorite Latin Artist" category.
The 1994 release of Martin's A Medio Vivir, his third CD, which included the signature hit Maria, brought the singer international acclaim. Embarking on a worldwide tour that included Latin America, Europe, Asia and the US, Ricky Martin played to large audiences including an unprecedented crowd of 200,000 in Argentina's famed Avenida Nueve de Julio in Buenos Aires. During a break in his successful tour, Martin added to his musical accolades, by starring on Broadway as Marius in the musical "Les Miserables".
Hit songs include --
I Don't Care
It's Alright
Bella (She's All I Ever Had)
Jaleo
Livin' la Vida Loca
Perdido Sin Ti
She Bangs
Solo Quiero Amarte (Nobody Wants to Be Lonely)
Tal Vez
Tu Recuerdo
Vuelve
Y Todo Queda en Nada
Jaleo
María
Shake Your Bon-Bon
She's All I Ever Had
Te Extraño, Te Olvido, Te Amo
Volveras
The Cup of Life
Fuego Contra Fuego
Ricky Martin may be available for your next special event.
For booking information, click HERE!
---
To book Ricky Martin for your special event,
contact Richard De La Font Agency, Inc.
For faster service, this is required - click on this link: https://www.delafont.com/contactselect.htm