PRINTER FRIENDLY PAGE. To view this group's HOME page, click or visit:
https://www.delafont.com/music_acts/Ro-Tel-Hot-Tomatoes.htm
**
Booking Ro-Tel and the Hot Tomatoes - Ro-Tel & the Hot Tomatoes - 50's, 60's and 70's Show and Dance Groups - © Richard De La Font Agency, Inc. - For serious booking requests only, click here: For More Information
Ro-Tel and The Hot Tomatoes is a unique show band that not only captures the authentic sound of the 50's, 60's and 70's, but the look, feel and fun as well!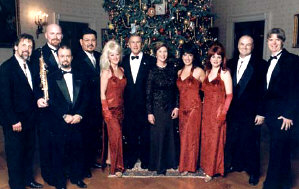 Here is a picture of the group with President George W. Bush and First Lady Laura Bush at the Congressional Ball.
If you like to dance, if you like to watch a great show, if you like to party or if you are just looking for fun – then you are going to love Ro-Tel and The Hot Tomatoes.
Ro-Tel is a group of five talented and experienced musicians who use a combination of guitar, saxophone, piano, organ, drums, bass and vocals to recreate the best sounds of early Rock 'n' Roll.
The Hot Tomatoes are three front women decked out in one outrageous costume after another – big hair, shimmy dresses, sequins and skin-tight leopard pants. The Hot Tomatoes turn the stage into a three-ring circus as they dance, strut, sing and stomp to the fun!
Put them together and you have a dynamic and exciting show band that means FUN!
For more than a dozen years they have entertained enthusiastic crowds at clubs, concerts and parties from Tulsa to Memphis and from El Paso to New York.
It was Ro-Tel and The Hot Tomatoes that were chosen by the San Antonio Tourist Bureau to travel to New York to attract conventions to the new San Antonio Convention Center.
Their corporate clients include IBM, Motorola, E.D.S., Mobil, Phillips Petroleum, Ace Hardware, Perot Systems, Schlumberger, Sakowitz, Texas Restaurant Association and many others!
Detour Magazine says, "Ro-Tel and The Hot Tomatoes make you bop 'til you drop. Watching them perform is like being able to dance at a Broadway musical review."
What other say --
IBM:

"I appreciated the fact that they were eager to please and anxious to give us exactly the type of show we wanted. They were extremely entertaining, and judging by the many compliments I've received from attendees, they thoroughly delighted our audience."


Texaco - Star Enterprise:

"I wanted to take this opportunity to thank you and the band for making our celebration one that will be remembered for years to come. Rot-Tel and The Hot Tomatoes lived up to the glowing reviews that I had heard from other sources.

I also appreciated the professionalism shown by the band as well as the road crew. The after-event feedback we received from our employees was very positive."


Fiesta Centennial - San Antonio Commission, Inc.:

"The people of San Antonio are still talking about the fantastic Centennial celebration of Fiesta San Antonio on April 19.

That day was something special, indeed, and Ro-Tel and The Hot Tomatoes' performance contributed immeasurably to its success. On behalf of the Fiesta Commission and the San Antonio community, a special thanks for giving us a day that many will long remember."


Austin-American Statesman:

"The sweet and sassy singers belt out the best of the girl-group hit of the 50's and 60's with a powerhouse five-piece band behind them, creating a living jukebox sound that brings the music back with verve and vitality.

There's no reason to sit at home and listen to commercials between the tunes when you can catch the real thing in full, goldie-oldie splendor."


Ross Perot:

"I engaged Ro-Tel and The Hot Tomatoes to play at a dance for approximately three hundred people in Dallas. The group did an outstanding job!

Our guests were delighted with the music and the three terrific singers/entertainers. There were a number of young people present who commented that it was the best band they had danced to.

I had an opportunity to visit with each member of the group. In addition to being excellent entertainers, they were also fine people."
---
Ro-Tel and the Hot Tomatoes may be available for your next special event.
For booking information, click HERE!
To book Ro-Tel and The Hot Tomatoes for your special event,
contact Richard De La Font Agency, Inc.
For faster service, do this first - click on this link: https://www.delafont.com/contactselect.htm