PRINTER FRIENDLY PAGE. To view this group's HOME page, click or visit: https://www.delafont.com/music_acts/rose-royce.htm **

Booking Rose Royce - R&B Artists - Quiet Storm, Urban, Disco, Funk, R&B - © Richard De La Font Agency, Inc. - For serious booking requests only, click here: For More Information

Formed in the USA as a multi-purpose backing group, the original nine-piece worked under a variety of names.

Rose Royce's first recorded album, "Car Wash," went Platinum.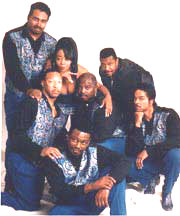 Rose Royce has earned eight gold records and five platinum records for such sensations as "Love Don't Live Here Anymore," "Do Your Dance," "I'm In Love," "I Wanna Get Next To You" and "Wishing on A Star" to name a few.
The movie "Car Wash" and the soundtrack were big hits, and it also propelled the group, now known as Rose Royce, into national notoriety. Released in late 1976, the soundtrack featured three Billboard R&B Top Ten singles: "Car Wash," "I Wanna Get Next to You" and "I'm Going Down." The former was also a number one single on the Billboard pop charts.
In 1977, the group released its follow-up album, "In Full Bloom" and bloom it did. The group returned to the Top Ten with "Do Your Dance" and "Ooh Boy," silencing all critics. In 1978, they released their third album entitled "Rose Royce Strikes Again!," and it featured "I'm in Love (and I Love the Feeling)" and "Love Don't Live Here Anymore." Both singles cracked the Billboard R&B Top Five.
The group followed with a string of hits that roamed the charts. They became very popular in England and remain a marquee attraction there.
Dazzling audiences worldwide, Rose Royce frequently tours Europe three times a year and Japan twice a year. They have played to many standing-room-only crowds all over the world.
Hit songs include --
Car Wash
I Wanna Get Next to You
Ooh Boy
Do Your Dance
I'm In Love (And I Love The Feeling)
Love Don't Live Here Anymore
R.R. Express
I'm Going Down
Do Your Dance
Is It Love You're After
Lonely Road
Wishing On A Star
Golden Touch
Pop Your Fingers
Best Love
First Come, First Serve
Rose Royce may be available for your next special event.
For booking information, click HERE!
---
To book Rose Royce for your special event,
contact Richard De La Font Agency, Inc.
For faster service, do this first - click on this link: https://www.delafont.com/contactselect.htm