PRINTER FRIENDLY PAGE. To view this artist's HOME page, click or visit: https://www.delafont.com/music_acts/sean-paul.htm **

Booking Sean Paul, Sean Paul Henriques, Reggae artist - book Reggae Music Artists - Reggae, Alternative Rap, Dancehall - © Richard De La Font Agency, Inc. - For serious booking requests only, click here: For More Information

Sean Paul Henriques was blessed with life on the 8th day of the first month, 1973. Hailing from a heritage rich in creativity, his mother is a renowned Jamaican painter. Legend has it that his paternal ancestors were horse-rustlers, fleeing Portuguese bounty hunters, shipwrecked on Jamaica during a daring escape. Sean Paul's lineage derives from a myriad of cultures. His ancestors trod from ancient civilizations in Africa, China and Europe.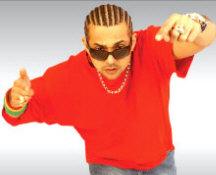 Schooled at such esteemed learning institutions as Wolmer's, Hillel and Bel-Air, Sean Paul made sure he furthered his education before pursuing his musical destiny. While at school he excelled at sports, representing his country in swimming and water polo at many international events. He went on to study for hotel management at UTECH, before finding employment in a bank, "counting other people's money!" he jokes. While very thankful for the privileged position his hard-earned education had furnished, the Dancehall bug had bitten Sean and there simply was no cure.
When he was thirteen his mother had given him a "little thirty-dollar keyboard. I remember thinking this was all I needed to make dancehall rhythms!" Sean Paul reminisces. Shabba Ranks, Super Cat, Major Worries and a whole heap of hip-hop artistes made up Sean's musical preference as he worked his DJ apprenticeship.
After attracting attention on the mic at local block parties and barbeques, Sean Paul made use of his links with Third World band members Cat Coore, Bunny Rugs and Carrot Jarret. They introduced him to the professional side of the business and encouraged him to exercise his talents further. Dancehall pulsing through his veins, Sean honed his craft until he came to voice his debut single, "Baby Girl," for producer Jeremy Harding's 2 Hard Records label in 1996. The song was a bombshell and blasted the way for many more hits. "Nah Get No Bly," "Deport Them," "Infiltrate," and "Excite Me" are among the tunes which have helped establish Sean Paul as a major force in the Dancehall arena.
As the millennium closed, Sean Paul was requested to combine with the MOBO award winner Mr. Vegas and multi-platinum selling rapper DMX for the soundtrack of "Belly," Hype Williams' 1999 blockbuster movie. "Hot Gal Today," also a combination with Mr. Vegas, went on to attract further international attention. It was voted number twelve in SPIN magazine's Top 20 singles of the year, and left a great number of fans expecting, if not demanding, an album from Sean Paul.
Still finding time and energy to dunk on fools on the basketball court in his spare time, Sean has also launched his Bassline Records label with co-partner Daniel Abbot, having released their first rhythm, "Sean Paul Presents Titanium 2000." Despite all the hype surrounding Sean Paul, the DJ remains with grace. "It humbles me to know that I can get through as a DJ because I had the opportunity in life to do the bank thing. Some people can't get them life there. So me haffi give thanks for what I have and I try not to make anyone feel negative at all, because even the slightest thing can make someone feel negative. And positivity is something that always drives me and the music I create."
Hit songs include --
When You Gonna (Give It Up To Me)
Get Busy
Ever Blazin'
Never Gonna Be The Same
Temperature
We Be Burnin'
I'm Still in Love With You
Gimme the Light
Like Glue
Hot Gal Today
So Fine
Hold My Hand
Got 2 Luv U
She Doesn't Mind
Dream Girl
Sean Paul may be available for your next special event.
For booking information, click HERE!
---
To book Sean Paul for your special event,
contact Richard De La Font Agency, Inc.
For faster service, this is required - click on this link: https://www.delafont.com/contactselect.htm