PRINTER FRIENDLY PAGE. To view this artist's HOME page, click or visit: https://www.delafont.com/music_acts/shirley-caesar.htm
**
Booking Shirley Caesar - Gospel Music Artist - Traditional Gospel, Contemporary Gospel, Black Gospel - © Richard De La Font Agency, Inc. - For serious booking requests only, click here: For More Information

"First Lady of Gospel"
Gospel Music Hall of Fame
-- inducted 1997
Pastor Shirley Caesar did not come by her crown as the "First Lady of Gospel" lightly. She earned it – every step of the way. Long recognized as one of Gospel's truly great and historic figures, Shirley is one of but a handful of artists qualified to share the legacy of such legendary talents as Mahalia Jackson and other revered artists of Gospel music.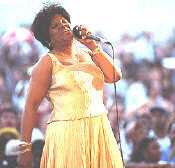 With the release of her albums, "Christmas With Shirley Caesar," "A Miracle in Harlem," and her autobiography, "The Lady, The Melody and The Word," Shirley's sense of herself and her purpose has never been clearer or communicated with more authority. As she continues to bring the roots of traditional Gospel alive to contemporary audiences, it's easy to understand why The Washington Post called Shirley Caesar "one of the greatest singers of our time," adding, "she can twist, compress and enhance a lyric a dozen ways without abandoning her central message of affirmation."

Whitney Houston, a Shirley Caesar fan since she was a little girl, said "If you want anyone to sing gospel on a record, you've got to have Shirley because she knows how to deliver. She's anointed with a power and force that runs through her."
Beginning singing at the age of 8, Shirley Caesar first gained national prominence in 1958 as a member of the pioneering Caravans, before beginning an illustrious solo career. She has recorded more than 30 albums since 1966 – several of which have sold more than 500,000 copies – as well as a gold video, all the while amassing a trophy case filled with not only with her nine GRAMMYS, but a host of Dove and Stellar Awards, and other accolades too extensive to enumerate.
She completed her third sold-out run on Broadway, starring in "Born To Sing," the third installment of the "Mama I Want to Sing" trilogy. Shirley played New York's Madison Square Garden in the hit gospel musical, "This Is My Song," with Cissy Houston and Tramaine Hawkins. She has also been involved with three major motion picture soundtracks, including Whitney Houston's "The Preacher's Wife," the John Singleton film "Rosewood," and her first acting debut with Warner Brothers Films', "Why Do Fools Fall In Love."
Shirley Caesar emphasizes the crucial spiritual dimension in all her successes – past, present and still to come. "Everything I do has a spiritual purpose to it," she says. "Everything. Everything! The GRAMMYS, the albums, the videos, the book . . . they all give me the chance to minister to that many more people. These are all powerful vehicles to touch people far beyond my capacity to reach them one-on-one, and hopefully change hearts and lead people to the Lord, then to motivate them to take up responsibilities to care for one another."
Hit songs include --
No Charge
I Know The Truth (Lies)
Sweeping Through The City
Other notable songs include --
Don't Drive Your Mama Away
Satan, We're Gonna Tear Your Kingdom Down
I Won't Be Back
He's Working It Out for You
Hold My Mule
Jordan River
World Didn't Give It to Me
I'm Getting Ready
Don't Be Afraid
Shirley Caesar may be available for your next special event.
For booking information, click HERE!
---
To book Shirley Caesar for your special event,
contact Richard De La Font Agency, Inc.
For faster service, this is required - click on this link: https://www.delafont.com/contactselect.htm