PRINTER FRIENDLY PAGE. To view this artist's HOME page, click or visit: https://www.delafont.com/music_acts/sin-bandera.htm **

Booking Sin Bandera - Sin Bandera - Latin Music Artists - Latin Pop, Adult Contemporary, Dance-Pop, Latin Soul - © Richard De La Font Agency, Inc. - For serious booking requests only, click here: For More Information

Sin Bandera has been on the forefront of the new singer/songwriter movement in Latin music. Their distinctive harmonies and sophisticated lyrics have brought them huge success and critical raves in the U.S., Spain and Latin America. In a review of their album debut, Amazon.com wrote: "there's a bohemian atmosphere that permeates the procedures, as if Sin Bandera had recorded these tunes in a solitary café, late at night, drunk with the power of their own poetry."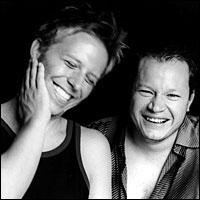 "De Viaje" was the follow up album to their self-titled debut, which sold more than a million copies in Latin America and the U.S., and achieved 3X platinum in Mexico, Platinum in Central America, and Gold in the United States.
García and Schajris went to the exotic Mexican state of Oaxaca to make the video for "Mientes Tan Bien," which was directed by the acclaimed Alejandro Marcovich.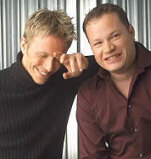 After its release, "De Viaje" became #1 in Mexico and it ran up the charts in the U.S. The album was written by García and Schajris and was produced by Aureo Baqueiro (Natalia Lafourcade), with whom they worked on their hugely successful debut. The album features 16 original tracks fueled with the romantic lyrics and exquisite vocal harmonies that have made Sin Bandera one of the freshest acts in Latin music.
The name Sin Bandera means "without a flag," and is intended to refer to the fact that García and Schajris are from different countries and think that music can cross all borders.
Sin Bandera has had worldwide hits with the tracks "Entra En Mi Vida" (Come into my Life), which remained Top 5 for over a year on the airplay charts and "Kilometros" (Kilometers), earning them one Latin Grammy for Best Pop Album by a Duo or group with vocal, 2 Latin Billboard Awards, one MTV Latin America Award for Best New Artist North, three Premios OYE and two Premios Lo Nuestro.
Hit songs include --
Mientes Tan Bien
Suelta Mi Mano
Entra en Mi Vida
Que Lloro
Que Me Alcance La Vida
Si Tu No Estas
Kilometros
De Viaje
Sera
Sirena
Ves
Junto A Ti
Sin Bandera may be available for your next special event.
For booking information, click HERE!
---
To book Sin Bandera for your special event,
contact Richard De La Font Agency, Inc.
For faster service, this is required - click on this link: https://www.delafont.com/contactselect.htm
For serious booking requests only.
Thank you for this consideration.