PRINTER FRIENDLY PAGE. To view this group's HOME page, click or visit: https://www.delafont.com/music_acts/slipknot.htm **

Booking Slipknot - Alternative Rock Music Artists - Rap-Metal, Alternative Metal, Heavy Metal - © Richard De La Font Agency, Inc. - For serious booking requests only, click here: For More Information

Started in 1995, Slipknot is a sonic collision of unstoppable music, back-breaking stage shows, and visuals that will keep you looking over your shoulder – a full-frontal attack on every sense known to Man.

From the over-caffeinated beats and jungle scratches to the searing riffs and driving vocals, the music has elements from almost every known music in the world. It's also heavy as hell, and the feeling behind the music is never more evident than seeing the live show.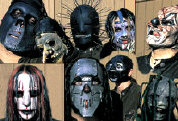 The motto for Slipknot has always been 'no limits,' in everyday life, on stage, even down to the tiniest details. Nothing backs this up like their line-up: a main drummer, two stand-up drummers, two guitarists, bass player, lead singer, DJ, and a sampler. "We're like a white version of the Wu-Tang Clan," drummer Joey Jordison jokes. This isn't just a band, but a family, an army, a musician's wrecking crew.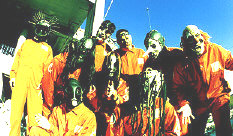 Then there are the masks. This is no gimmick, but almost an extension of each member's personality. "You're only free until you come face to face with who you are," lead singer Corey Taylor said. "You deal with it, you accept it, then you revel in it." "This is the first thing I've heard in the last two to three years that's got me truly excited," said Monte Conner, senior vice president of A&R at Roadrunner Records.
This band from Des Moines, Iowa, has gathered a loyal following in the Midwest and surrounding states, selling out local shows for the last two years. While unsigned, they played KKDM's Dotfests 1 and 2, local music festivals drawing more than 20,000 people and gaining them exclusive media attention both times.
Their single, "Spit It Out," was the #1 most requested song on KKDM for 3 months. It was added to the radio industry, which caught the attention of Ross Robinson in January '97. Ross, who calls them a "wolf pack of Beavises," helped Slipknot get a spot on the EAT'M festival in Las Vegas. Extreme 107.5 in Vegas added "Spit It Out" to their "Cagematch," pitting songs against one another. Slipknot were champs for 5 weeks until they were retired.
After EAT'M there were many offers from labels, and the band finally signed with Roadrunner, where they feel "at home, more like a family than a label."
Hits include: "Dead Memories",
"Duality", "Snuff", "Psychosocial",
"Before I Forget", "The Devil In I",
"Vermilion", "The Negative One",
"Sulfer", "Nameless", "Left Behind",
"Killpop", "Wait And Bleed".
Other notable songs include: "Spit It Out",
"Liberate", "Tattered and Torn",
"Better Back Off", "Scissors",
"Prosthetics", "Only One".
Slipknot may be available for your next special event.
For booking information, click HERE!
---
To book Slipknot for your special event,
contact Richard De La Font Agency, Inc.
For faster service, do this first - click on this link: https://www.delafont.com/contactselect.htm
For serious booking requests only.
Thank you for this consideration.