PRINTER FRIENDLY PAGE. To view this group's HOME page, click or visit: https://www.delafont.com/music_acts/smashmouth.htm **

Booking Smash Mouth, Smashmouth - book Alternative Rock Music Artists - Ska-Punk, Post-Grunge, Alternative Pop/Rock - © Richard De La Font Agency, Inc. - For serious booking requests only, click here: For More Information

This is the pop/rock band from San Jose, California.
Not to be confused with the indie rock band, Smashmouth, from Omaha, Nebraska.

Smash Mouth (named after Mike Ditka's term "smash mouth football") was formed in San Jose, California, in 1994 when boyhood friends and former band compadres Steve Harwell (vocals) and Kevin Coleman (drums) recruited Greg Camp (guitar) from a local cover band. Camp then persuaded Paul De Lisle (bass), with whom he had played in another outfit, to take a chance on the new band.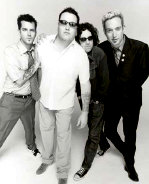 Smash Mouth first came to public prominence when "Nervous In The Alley," a track from their first professionally produced demo tape, was played frequently during April 1996 on local rock station KOME. A support slot to No Doubt and Beck at the KOME music festival followed, along with press and record label interest.
Soon thereafter, the quartet inked a deal with Interscope Records, which released their debut, "Fush Yu Mang," in 1997. Smash Mouth supported the album with extensive touring, including tours with Sugar Ray, Third Eye Blind and Blur, among others.
Despite their meteoric rise, all four members of the band had spent time in other ventures. Singer Steve Harwell came from the most unusual background, having previously led the House Of Pain-inspired hip-hop group F.O.S. (Freedom Of Speech). The other members are Greg Camp (guitar), Paul De Lisle (bass) and Kevin Coleman (drums).
Smash Mouth was given a further boost by the success of "Walkin' On The Sun," the first single to be extracted from 1997's "Fush Yu Mang." It was originally designed as a drumming "exercise track" for Coleman, until he persuaded the rest of the band of its melodic possibilities. In truth, this light-hearted pop ditty was wholly unrepresentative of the rest of the band's canon of acerbic punk songs. "Fush Yu Mang" also included a cover version of War's "Why Can't We Be Friends?" and climbed to number 41 in the Billboard charts.
The far more accessible follow-up, "Astro Lounge," broke into the US Top 10, bolstered by the Top 5 success of the highly catchy "All Star." The band's self-titled third album featured new drummer Michael Urbano.
Hit songs include --
All Star
Then The Morning Comes
Walkin' On The Sun
I'm A Believer
You Are My Number One
Can't Get Enough of You Baby
The Fonz
Pacific Coast Party
So Insane
Why Can't We Be Friends
Waste
Other notable songs include --
Come on, Come On
Do It Again
Padrino
Better Do It Right
Smash Mouth may be available for your next special event.
For booking information, click HERE!
---
To book Smash Mouth for your special event,
contact Richard De La Font Agency, Inc.
For faster service, this is required - click on this link: https://www.delafont.com/contactselect.htm