PRINTER FRIENDLY PAGE. To view this group's HOME page, click or visit: https://www.delafont.com/music_acts/system-down.htm **

Booking System of a Down - Alternative Rock Music Artists - Alternative Metal - © Richard De La Font Agency, Inc. - For serious inquiries only, click here: For More Information

System of A Down formed organically – the members' shared and diverse musical and personal experiences created an explosive musical mine field of such volatile, incendiary ferocity that Rick Rubin elected to sign and produce the group as the first new act on American Recordings under a recent pact with Columbia Records.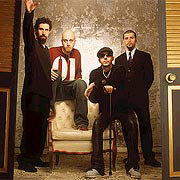 The intensity of metal, the social commentary of rap and a plethora of influences – ranging from the band's Armenian heritage to jazz to Middle Eastern melodies to the nightly news – has made System Of A Down a top draw in their home burg of Los Angeles.
The band's agenda has always been clear and uncontrived: "Our goal has been to stay open to whatever currents guide us through our lives – musically, thematically, in every way, to be ourselves," explains SOAD's soft-spoken, but big-voiced, singer Serj Tankian. "Our songs and themes range from political to social to daily angst to love to hate to dope."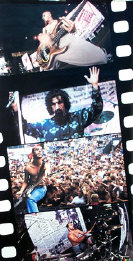 However, the band emphasizes, "we do music because we love it, and our agenda is not just political. We'd like to touch every sense of our audience: visual, auditory, taste, touch. We don't just concentrate on an aggressive emotion, 'though we have that. Anger becomes more angry when you're quiet at first. That's key to our dynamics," Serj explains. "We have the openness to go anywhere. It goes without saying we're a heavy band, but we can also do a love song."
In other words, in the musical milieu of System of A Down, all are welcome. "If you're into surprises, being taken for a ride, I think you'll like the music, no matter what type of music you're used to listening to," Serj believes. "We have a lot of people who like our sound who have never been into heavy music. We have cross-genre types of music lovers."
Hit songs include --
Aerials
Hypnotize
Toxicity
B.Y.O.B.
Chop Suey!
Question!
Lonely Day
Innervision
Spiders
Sugar
Cigaro
Kill Rock 'N' Roll
Other notable songs include --
War?
Suite-Pee
Mind
Spiders
Know
Jet Pilot
Bounce
System of a Down may be available for your next special event.
For booking information, click HERE!
---
To book System of a Down for your special event,
contact Richard De La Font Agency, Inc.
For faster service, this is required - click on this link: https://www.delafont.com/contactselect.htm
For serious booking requests only.
Thank you for your cooperation.